For most of us "classically trained" violinists, the thought of installing a pickup is confusing, frightening, and weird. The good news is that it isn't as complicated as it seems and we have a variety of options to suit your individual needs!

If you are trying to play your instrument in a venue where everyone else is amped, miked, and generally just LOUD, then you will probably want to get a pickup for your instrument. Trying to play into a microphone or a condenser mike can work for you on occasion, but if you consistently find yourself being buried beneath electric guitars or drum sets then you'll need some help. Besides, a pickup can help produce a better and more natural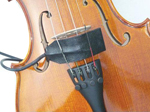 sound than a microphone will.

Essentially, a pickup is a small device that attaches to your instrument in the bridge area which converts physical vibrations into a digital signal. You can plug the pickup into an amp, and BAM – now you're loud. It's pretty simple! So, if you think you need a pickup, the next step is to determine your needs. Here are some things to consider:
How often will I need to be amped?
How subtle of a sound will I be looking for? (In other words, are you going to be performing a nuanced piece in a large venue or are you playing along with your band?)
Do I want the pickup to be permanently affixed to my instrument?
Will I also want to play acoustic pieces while the pickup is still attached to my instrument?
Based on these questions I can begin to offer some answers!

If you are looking for a pickup to use only occasionally and you don't need the most nuanced sound…

… try the Mighty Mini Pickup (MMP100). This threads between the strings just below the bridge. It is inexpensive, quick and easy to put on and take off, and is totally non-invasive to your instrument.

If you are gigging frequently in electric venues and you're looking for a more refined sound…

… then the Fishman or Shadow violin pickups may be just what you need. The Fishman Piezo Ceramic Pickup (V100) mounts onto the tailpiece and has a device which sits in the bridge. The Shadow Violin Transducer (SVP40) mounts between the wings and the feet of the bridge.

If you are looking for a pickup to be permanently installed on your instrument and you want the most incredible sound possible...



… try the L.R. Baggs Violin Pickup (LRV100) or the Realist Pickup by N.S. Design (RVP100). TheBaggs pickup is built into a bridge that you will need to get fitted to your instrument; the Realist pickup sits beneath the feet of the bridge. These shouldn't have a huge impact on the acoustic playability of your instrument, but they definitely are for the committed. These have the most nuanced sound out of all of our pickups.

NOTE: In order to get the best possible sound from your pickup, we recommend using a pre-amp. The pickup plugs into the pre-amp and the pre-amp plugs into the amp. Using a pre-amp gives you a range of control and refinement that you would not get by plugging the pickup directly into an amp. For information on our range of pre-amps, browse the product descriptions here.