As the weather gets nicer, many musicians find themselves playing more gigs outside. From weddings to dinner parties, do you have what you need to make sure that you don't get blown away while you're playing outside?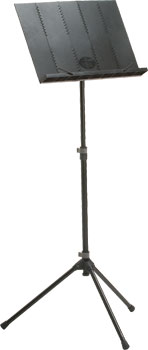 A Sturdy Music Stand
I can't tell you how many gigs I've played where my main focus has been on trying to stabilize my music stand. Folding wire stands are great because they are light, convenient, and very portable, but they don't tend to do very well outside. Often they collapse under the weight of a gig binder or they completely blow over. In order to avoid this, you'll probably want to get a heavier, more solid music stand in order to avoid problems. Here are my suggestions:
The Peak Music Stand (PSM20). It is sturdy enough to support a heavy binder. It has a flat desk so your music won't fall off. And, it folds into a convenient carrying bag so that you aren't dragging your giant orchestral stand around the park with you.

The Voyager Stand (AC48V). If you really love your orchestral Manhasset stand, then the Voyager is a better option for traveling. The legs fold up for more convenience.

Music Clips (AC53)
The wedding party has processed in. Flowers abound. Then, you commence the famed strains of "Here Comes the Bride" and everyone turns around to look at the beautiful bride. A gentle summer breeze blows idyllically through

the wedding party… and then the groom's rapt expression upon seeing his bride evaporates immediately as the music stops and your quartet makes a mad scramble to pick up the music that just blew away. (Either that or you attempt to play the rest of the piece from memory, which may or may not go well.) Sound familiar? Prevent this at your next wedding by getting some music clips (AC53). These are transparent plastic clips that clamp securely over the entire length of your music. Problem solved.




A Bag for your Stuff (HT1)
I've definitely been overwhelmed at gigs before because I've had more stuff to tote around than I could manage. This Handi-Tote (HT1) would have helped. It's a black canvas bag that you can fit your music, your stand, and even clothes into. It's 15'' x 12".


A Comfortable Strap for your Instrument (1440X)


If your case is heavy then getting this neoprene strap might help. It's designed to be so shock-absorbing that it makes your case feel 50% lighter! This can really help when it feels like you're carrying a ton of stuff around at your gig. It comes in a single shoulder strap as well as backpack straps (1442X).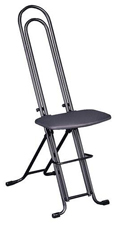 A Chair (MSC500)
I really, really hope that the people you're playing for are kind enough to provide you with a chair if you need one. But, sometimes this is a problem, so it's nice to be prepared. This Deluxe Studio Chair is lightweight, sturdy, and portable. It folds flat for convenience.


The Ability to Say "No"
If you're playing outside and it starts to rain, you don't need an umbrella. You need to go, ASAP! Nothing is worth the damage to your instrument!