Our guest blogger Ashley Liberty teaches violin at Carrollton School of the Sacred Heart in Miami, Florida in addition to maintaining an impressive performance career in which she's been Concertmaster for the Henry Mancini Institute Orchestra and performed alongside Bruce Hornsby, Andrea Bocelli, Bernadette Peters, Steve Miller, and Ricky Scaggs. Ashley makes a convincing case for using the O'Connor method: she firmly believes that the benefits of teaching American music with lyrics and a rich historical context outweigh any of its challenges.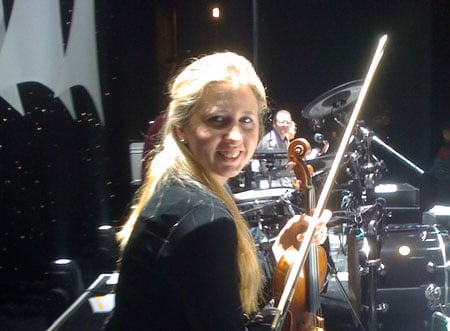 I began my journey with the O'Connor Method after attending the O'Connor String Camp as a professional classical violinist looking to develop my abilities in other styles. I was introduced to the method there, and I decided to pursue training. Early on, I became a believer with an urgent desire to completely devote myself to teaching the O'Connor Violin Method to my beginning students, especially after attending the certification class with the method's inspiring editor, Pamela Wiley. Since adopting the method as my curriculum with my 250 school violinists, and with all of my beginning to intermediate-level private students, I have been very satisfied with the results, and often completely surprised.
Joy
Joy is something that pours out of the doors of my classrooms - literally. I began the year teaching my classes in a normal uniform way, but I had to quickly adopt new plans for individual practice time. The students in my 2nd through 6th grade classes devoured Boil 'Em Cabbage Down and proceeded ahead in the O'Connor Book at different rates of progress. When given the chance to practice individually (in their single 40 minute class period per week), the students voraciously went to work learning notes on their own and running over to me to share or to ask how to play the next bowing or snippet of a melody. It was astonishing to me to see the kind of drive that the music inspired in each child. So, I have officially run out of space in my otherwise adequate classrooms. During any given class period in the Primary school (1st through 3rd), the room and the hallway outside the room and the lawn outside the back door will be flooded with the sounds of Beautiful Skies, Oh! Susanna, Boil 'Em Cabbage Down, and Buffalo Gals. Success and accomplishments stemming from this frenzied dedication on the part of every student, result in impromptu performances, stickers, huge smiles, tremendous self-confidence and fascinating levels of intrinsic motivation.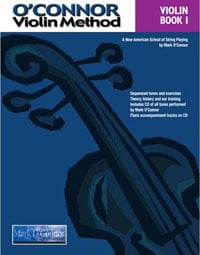 Creativity
Boil 'Em Cabbage Down comes in many shapes and sizes. Emily's Cabbage variation wasdifferent from Isabella's and from Sofia's and so on. Every child became an improviser. Quite frequently, and on the spot, class time was devoted to creating variations on Boil 'Em Cabbage Down, which is encouraged by Mark O'Connor and the fiddling tradition. The Method Book teaches numerous variations as a jumping-off point. The exercise of creation may have been the fuel for the success of the violin classes this year. Each child had a sense of ownership over her music learning, and she made the connection that music was not an abstract and impersonal endeavor to execute prescribed notes, but one that came from her. The Boil 'Em Cabbage Down creative phenomenon pervades every other song in the book. Even when the child has to learn the exact notes on the page, her confidence about and connection to the music is steadfast, stemming from her creative experiences within the method.
New Conversations
I began using the Orchestra Method with my 7th grade violinists. It's fabulous that the three-part orchestra method can be configured for two violin parts with cello. As I only have violinists, the students played the two violin parts, and I picked up the cello (a new thing for me). One priority of mine in the 7th grade class is to refine the students' sense of good intonation and correct intonation in general. The conversation usually went: 'No, your second finger is out of tune again…move it higher, no that was too much, move it back.' This narrative seemed endless until I received a shipment of Orchestra Method Books and began using them. The arrangements inspired me to think differently about the battle for good intonation (thank goodness!). All of the sudden, tuning became a highly interactive task. The students playing the A would hold a beautiful, clear and quiet note while the students playing the F sharp would adjust their F sharps one at a time until all were in a perfectly tuned Minor 3rd. Incorrect intonation became painfully obvious for the students and they became motivated to make changes. The conversation grew from tuning individual notes to a conversation about intervals and overtones and the beauty and simple pleasure of harmony. The students were in love with their new experiences harmonizing, and they were instantly addicted to a higher standard of playing. The Orchestra Method was unbelievably easy to teach because my non-readers were instantly able to participate by playing the music they already learned in solo book. My 'practicers' and readers were challenged just enough by the 2nd violin part, but not too much so the music happened right away.
***

I have many stories to share about my experiences with the O'Connor Method. I know exactly which string crossings and fingerings will be difficult for my students, I know the songs that they will fly through, and I know, intimately, the rewarding feelings that come for both me and my students from this sensitive and nurturing approach to learning the violin and shaping young musical minds. Please leave your comments and questions below, and I'll be more than happy to respond!