In today's post, Nerissa Nields talks about the big fear every music-loving parent encounters at some point: If I push my child too hard, will he just end up hating music? For me, the highlight of Nerissa's post is the moment she realizes that both grace – the thing that happens when you least expect it – and hard work make music (and teaching music) possible.

Johnny had been showing up for his guitar lessons like a mini-brunette normal-eyed Johnny Winter. He continues to hone his moves, if not his chops, on his little acoustic, or a boom whacker, or what appears to be part of a Hot Wheels racing apparatus. At a recent lesson, he was given this for homework:

-Stand in zero position (feet to the right of the stool)
-Now move to one position (left foot moves about a foot to the left, so legs are wide)
-Pick up guitar with right hand
-Hold guitar with the head up.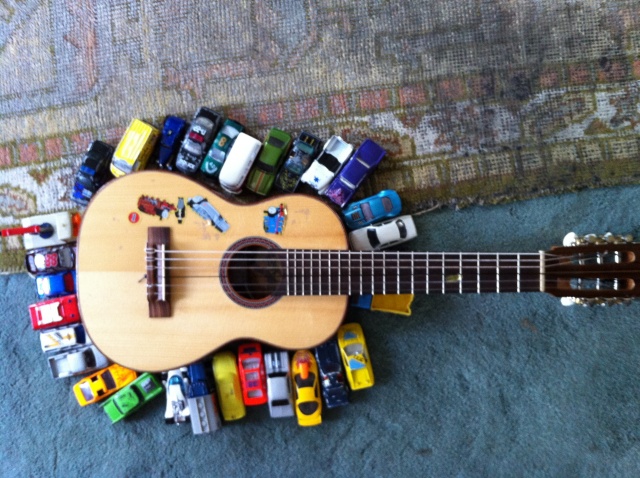 Also, he can clap back rhythms that I or Lila clap or play for him. I was pretty sure he was well on the way to superstardom. Or at least maybe eligible for this month's Suzuki Springfest, a heart-lifting end of the year all day extravaganza held in Downtown Northampton. Suzuki students from every studio mass together in various outdoor locales and play through their repertoire. Lila did this last spring on the courthouse lawn. I noticed that Jeremy, Johnny's teacher, had a group of his guitar students participate. I dreamed of Johnny sitting on his tiny guitar stool, holding his guitar in place as the older guitarists played. He'd be watching them all, with a mix of reverence and chutzpah, thinking, "Next year, man, I'll show you all!"

Well, this didn't exactly happen. Instead, Johnny watched for about ten seconds, then kicked off his shoes and ran across the lawn to slide down the stone banister in front of the courthouse.

Instead, we walked into Jeremy's classroom today, and after about ten minutes, Johnny lay on the floor. "No," he said to everything Jeremy asked him to do. "Dat is so boring." When Jeremy asked him to clap, he lay on his back and idly swung his arms together so that his hands missed each other. When Jeremy asked him if he'd like to learn "two position," Johnny said, "Dat is so boring." (Two position is when you sit down on the stool. I have to agree; pretty boring.)

It came up toward the end of the lesson, when I mentioned to Jeremy that I'd been away for the past two weekends doing gigs, that perhaps there was some general free floating anger that had attached itself to the guitar. "You went away and I didn't even wike dat," Johnny said from his side lying position on the floor.

We called it a day a bit early, and actually decided to take a hiatus from lessons until September. I felt a heaviness in my heart. Had I pushed him too hard? Should we quit now before we squeeze all the love out of the guitar for him?

Emily, our violin teacher gave us some perspective. "When I started, it took me six months just to stand still for one minute" [which is part of the Suzuki teaching pedagogy.] "I used to hide under the piano bench. It took me another two years to learn my Twinkle variations. But I knew the music because my parents played it every day. You have to take the long view. You are giving him invaluable life skills that will apply to every aspect of his life."

I looked up the word "student," as I noticed it shared a root with "studio" and also, of course, "study," which is what we called the room my father worked in, a room we'd refer to nowadays as his office."Study" comes from the Latin studere, to apply oneself with diligence; or earlier to what's known as "Proto-Indo-European language, or PIE: to "to push, stick, knock, beat." I like this. Sounds like music. Next fall we'll come back to Jeremy and we'll push the tiniest bit more. Or maybe we'll just knock out the beat with a couple of sticks. Either way, nothing worthwhile comes without an application of some kind of diligence and then that magic Other: grace.

After Springfest, post-dinner, Lila and I practiced her violin, and Johnny joined us, red boom whacker air-guitar flailing along to "Go Tell Aunt Rhodie" through Brahms's Waltz. And then, for the first time ever, he pulled his little guitar stool out of the music trunk and set it up in front of his stool, picked up his real) guitar and set it carefully on his left knee. "Wook, Mama!" And he began painstakingly to pluck out notes on the strings.

So far we haven't knocked his love affair with the guitar out of him yet.