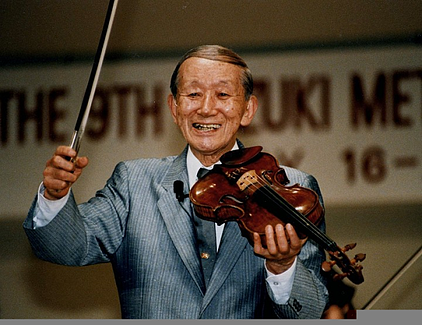 This past weekend the annual Suzuki Conference took place in Minneapolis, MN. The Suzuki Violin Method is incredibly popular – right now there are over 8,000 Suzuki teachers and nearly 250,000 Suzuki students throughout the world. But what exactly is the Suzuki method and who is the man behind it?
Shinichi Suzuki was born in Nagoya, Japan in 1898 where he worked at the family violin factory. He never studied the violin as a child and had no interest in doing so until, at the age of 17, he heard a recording of Mischa Elman performing Schubert's Ave Maria. This piece revealed to him the great beauty of the violin and inspired him to learn how to play. He began teaching himself how to play the violin by listening to recordings and imitating what he heard.
When he was 22 he moved to Germany in order to study with Karl Klingler (a student of Joachim). While there he noticed the ease with which young German children were able to pick up their mother tongue, a language that he as an adult was struggling with. This observation later became the core of his incredibly influential violin method.
Suzuki and his new wife Waltraud moved back to Japan where he began teaching and playing in a string quartet with his family. By 1930 he had become the conductor of the Tokyo String Orchestra and was touring and performing across the country.
In 1946 he started a music school in Matsumoto where he continued to develop his violin method. He had realized that children can learn music the same way that they learn language: through listening, imitating, and repeating. By the 1960s, western teachers had begun to travel to Matsumoto where they could observe the ability of the violin students as well as learn from Dr. Suzuki himself.
The core of the Suzuki Method is to enable children to learn music in the same way that they learn language. This means that children are encouraged to start very young (typically around age three or four), they learn to play through listening and imitating before they learn to read music, and the parent is directly involved in the teaching and learning process.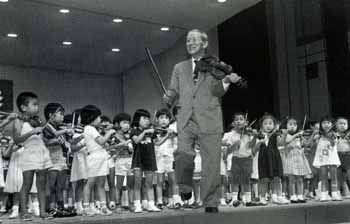 The Suzuki Method is both popular and successful; many children who began learning through the Suzuki Method have gone on to achieve great acclaim in performing. This indicates the success of the method, although it is not the method's immediate goal: Dr. Suzuki created his method in order to assist in the development of the whole child and to enrich the lives of children through music. "Character first, ability second," was his motto. The purpose of his method is seen in his statement:
I want—if I can—to get education changed from mere instruction to education in the real sense of the word—education that inculcates, brings out, develops the human potential, based on the growing life of the child. That is why I am devoting my efforts to furthering Talent Education: what a child becomes depends entirely on how he is educated. My prayer is that all children on this globe may become fine human beings, happy people of superior ability, and I am devoting all my energies to making this come about, for I am convinced that all children are born with this potential.
This, it seems, is the heart of the Suzuki method and is responsible for its great success. Children learn best when they are in a loving, nurturing environment. In learning to do something well, they can learn not just a skill but how to live a happy, loving life. As Dr. Suzuki himself put it most simply: "Beautiful tone, beautiful heart."