… besides how to play Italian songs with as much schmaltz as possible and how to avoid stabbing the servers with my bow.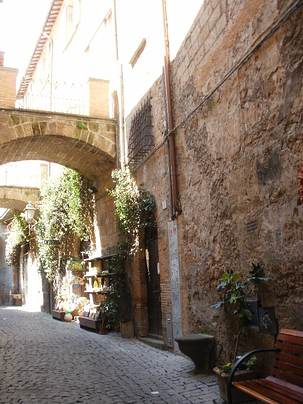 This year, I have had the great privilege of performing regularly in an upscale Italian restaurant. It has been exhausting, frustrating, and embarrassing at times, but by and large it has come to be one of the most rewarding experiences of my professional career.
When I was in music school I never would have imagined myself performing in such a venue. I admit that I was disconcerted during my first night in the restaurant; I was playing in the stairwell and my inflated violinist psyche did not appreciate the lack of applause after each piece. I longed for a stage, for a grand piano, and for a quiet audience. I began to realize, however, that my unique employment situation was actually one in which I could bring classical music closer to people who weren't familiar with it. Suddenly I wasn't isolated on a stage anymore – I was out in the audience! This was a very new experience for me and I dare say that I've learned a few things in the process. Here are some thoughts!
Always do your best. This sounds trite but it's true. It can be really tempting to fudge notes here and there – the restaurant is so loud and chaotic anyway – but you never know who's in the audience. While I've been there, patrons have included conductors, wealthy classical music patrons, and principles from major orchestras. The last thing you need is to be blaring wrong notes "fake-issimo" to an audience that actually realizes what you're doing!
Have a business card. If people like you, they'll probably want to hear you again. Some people need a teacher for their violin student; others are looking for entertainment for a dinner party. Either way, having business cards on hand is a sure way to market yourself in the competitive freelance world.
Be present to each individual. Obviously, playing the theme song from the "Godfather" is not going to work at every single table. Some discretion is certainly advised! It has been so, so rewarding to meet someone for the first time, play a piece for them, and have them thank me for my little performance. Being sensitive to each person can be all it takes to make an anniversary special or even, in one extreme case, to help bring closure after the death of a loved one.
Find silence amidst the chaos. Performing at customers' tables has been very challenging because there isn't a lot of extra space in the restaurant. Often I have to move around while playing in order to accommodate servers and patrons passing through. Additionally, it can be very loud in the restaurant at times and so it has been a struggle to maintain focus on the music. However, as I have played even the simplest song amidst the chaos, I have been struck by how immensely gratifying it can be to find that silent, calm, and focused state amidst the mayhem. In a world that seems to be increasingly carried away with distractions, performing amidst the confusion has come to be immensely gratifying. The restaurant, like the world, does not provide one with the privilege of silence, but the silence is there nonetheless, waiting to be performed.