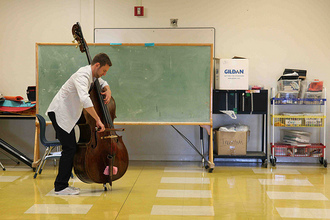 There's been a lot of press recently about bullying and hazing: a Rutgers student hid a camera in his dorm room to record his roommate being intimate; the hazing practices of the Florida A&M marching band led to the death of drum major; and Mitt Romney's days at Cranbrook High School received close scrutiny in the wake of allegations that he cut off the long, bleached hair of a classmate.

It seems appropriate, then, to share a video from the bass and violin trio Time for Three (it's tough to categorize their sound since they meld classical, country, jazz, and even Roma music). The trio has been wildly successful ever since their breathrough performance at the Philadelphia Mann Center: the stage lights failed and two members of Time for Three had an impromtu jam session of folk, pop, gospel, and ragtime tunes. The audience loved it.

The trio, though, is now using their popularity for a good cause. Time for Three's new video "Stronger" tells the story of a young violinist who's persisently bullied by a classmate. The classmate does all the usual stuff, though he also breaks the young violinist's instrument by trying to hit a baseball with it (!). As the narrative progresses, however, we watch the violinist persevere in his playing and eventually receive recognition at a talent show.





The video, of course, is a tiny bit sentimental in parts, but it also contains a complicated and important message. The video reminds us that music is not just about music, performances, and success; it's about being heard by others. While the bully has his say early on through his strong-arm tactics of pushing and harrassing the violinist, the violinist ends up being the "stronger" and more articulate of the two by the end of the video. He is the one being heard and being recogized.

And isn't that what bullying attempts to silence – a young person's voice? Victims of bullying are often ridiculed for their identity, whether that identity centers on their sexuality, race, style of dress, religion, class, or any of the hundred other elements that form us. Music and art can rehabilitate and affirm a child's identity, their unique voice, and are perhaps some of the more powerful responses to bullying. The pain of being silenced becomes a reason to speak.