Having trouble finding the music stand you need? Here are my personal favorites!
Like many string players, I have a long history of trying all manner of music stands. After having far too many stands blow over in the wind, collapse under the weight of gig binders, or injure me with protruding metal shards, I am tired of shopping around for music stands! Therefore, I write now to share my suggestions with you in order that you may not also suffer the distress caused by malfunctioning music stands. Here are my personal top three choices: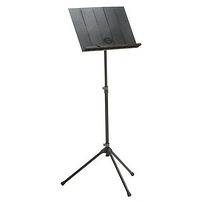 1. The Peak Music Stand. I love this stand. For a folding music stand it is incredibly sturdy. It easily supports the weight of many music books on the desk at once (more so than even the traditional Manhasset stand). It has a full desk so your single pages of music won't fall off. It has a really nice carrying bag which can be easily looped over your shoulder (unlike other stand bags, which often barely accommodate your hand). And, it only weighs 6 pounds and is very easy to assemble. I happily use this stand both at home and at gigs. If you like the standard Peak but want a flat writing surface on the desk, try the PSM32 – this has a full, metal desk. The carrying case for this stand is about the size of a briefcase.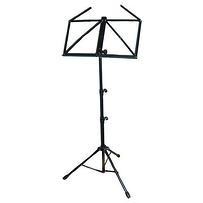 2. The Gig-N-Go. This comes in a large variety of color choices, so this can be a fun choice for kids. It folds into a smaller carrying case than the Peak, and, in spite of being a folding metal stand, it's almost as sturdy as the Peak stand. It is five pounds.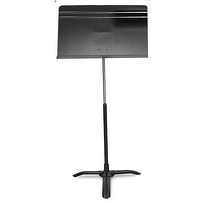 3. The Manhasset. Finally, we have all sorts of orchestral stands from both Manhasset and Hamilton. You can check these out here. I personally use the standard Manhasset stand (AC48) at home and it has happily endured for years.
Honorable mention: The Compact Music Stand. If you're looking for something as light as possible, then this is probably what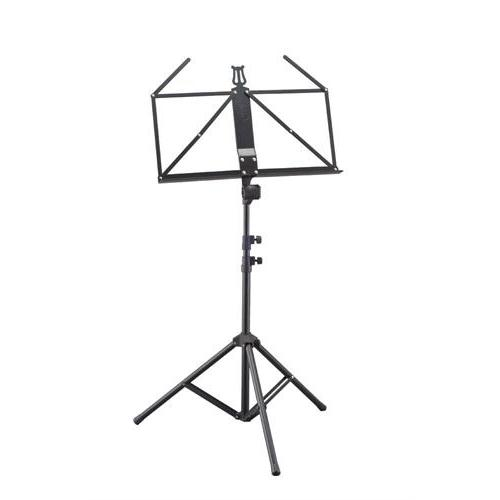 you need. The aluminum version is only 1.5 pounds, but it also isn't as sturdy as the Peak or the Gig-N-Go.
Wish list: George II Classic Music Stand (pictured above). Beautiful, classy, perfect. But, I will never own this stand because I feel fairly certain that if I did, I would need to refurnish my entire living room in order to make it worthy of this stand!
Hopefully this helps! If you have any questions, please call us. You can always ask to speak with me!