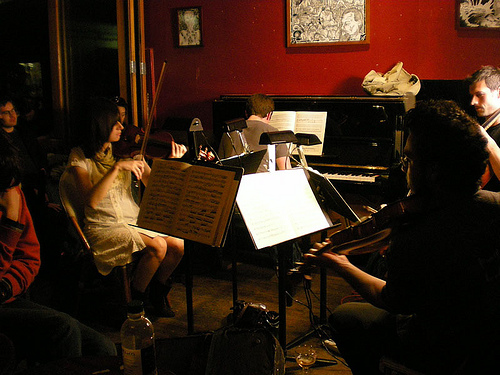 One of my favorite bars in Ann Arbor is Old Town Tavern: it's laid-back, unpretentious, and while the food isn't anything to write home about, it's decent bar fare. The drinks are reasonably priced, but not so cheap that you get college students passed out in the corner booths. As one Charles Dickens character from Little Dorrit likes to say, "There's no nonsense about it." In short, it's comfortable.

But now that I've heard about Classical Revolution, a collective of musicians who bring Mendelssohn and Bach and so on to bars in cities like San Francisco and Detroit and Atlanta, and who have a chapter in Ann Arbor, I'm wondering: would a string ensemble belong at Old Town? Is my favorite bar the right place for this music?

I'm not sure if I'd be more worried about the bar losing its atmosphere or the music losing its impact.
Maybe neither has to happen, though. I recently saw a documentary (twice, actually) about the famous German dancer and choreographer Pina Bausch. One of the triumphs of the film was that it took a relatively elitist art form – modern dance – and put it out in the world: on the streets of Germany, in a park, in a creek, on escalators, in a cafe, and so on. The dances, ripped from the stage, actually felt more at home and more real and more contextualized than much of the live modern dance I've seen. (It did help that the movie was in 3D.)

I think the beauty of these dances, especially one that takes place on a town's monorail train, is that they make art a part of our daily lives. A traditional stage is a display; an ersatz stage, like a corner in a bar, is not a stage at all but a mostly imaginary line. And I like that. I like it when art is right there beside us, during the day, when we listen to music during work, or think for a second, on our way up our front steps, of a similar scene in a sprawling novel where a character walks up his front steps and is finally home, or when we look up from our drink at a bar and hear something beautiful.

It seems to me that one of the main projects of Classical Revolution is to throw together these two types of moments, the ones in which we experience something amazing and the ones in which we feel at home, and comfortable. Here's an excerpt of the Portland chapter's manifesto:

We love classical music. We love playing classical music. We love listening to classical music. We are tired of the elitist and inaccessible nature of the classical world. We believe that there are many that would enjoy classical music if they could access it in a setting that is comfortable for them. We believe classical musicians should be allowed to perform in a setting that is more casual – where the audience is allowed to have a drink, eat a scone, laugh a little, and clap a lot. We believe everyone can enjoy the music that we love.
I have some quibbles with Classical Revolution, and I'll just mention them briefly: isn't real beauty also terrifying, and so can it actually be comfortable? Can the audience concentrate on the piece with all the distractions of a restaurant or bar? These are minor, though. The bigger point is for more people to enjoy art rather than for a select few to enjoy it more intensely. And that comfort and beauty are not always exclusive.

And so maybe it would be, um, pretty awesome to have classical music at Old Town (Classical Revolution Ann Arbor already performs at Silvio's pizza on Wednesdays). Half of the elitism of elite art forms, like dance, poetry, and classical music, is elitism of context: tuxes and concert halls, hefty ticket prices, university-sponsored readings and experts telling you how to experience joy. It's just possible, though, that aesthetic joy can happen both in a concert hall and a neighborhood bar.