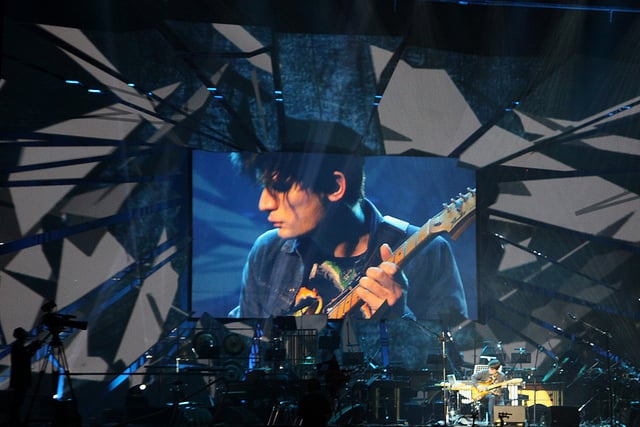 (photo by Georg Schroll)

I'm not sure if anyone out there in the vast, interstellar space of the Interwebs read the Sunday article in the New York Times Magazine on Jonny Greenwood, the Radiohead guitarist and composer extraordinaire.

The article profiles Greenwood and his forays into contemporary classical music, forays which are fuelled by his obsession with the Polish composer Krzysztof Penderecki. Greenwood comes off as a melancholy but brilliant rock musician and classical composer, although, really, more than simply profiling Greenwood, the article attempts to document a transitional moment for Greenwood – how firmly in-between rock musician and experimental composer he is.

This in-between state of Greenwood's is something different, the article argues, than Paul McCartney's "politely received" classical compositions, or anything by Deep Purple or Emerson, Lake, and Palmer. Or even Billy Joel. Greenwood isn't moonlighting in classical. Or if he is moonlighting at all, he could be a composer moonlighting as a rock musician.

The article is especially interesting for classical musicians and string players, since in documenting where Greenwood is in his career, it points toward an exciting trend in both indie rock and classical music. The two, once ignorant of each other, are now bedfellows.
This is good news for both genres because this shared musical space will expand the musical possibilities of indie rock (bands can express existential ennui accompanied by more strings now!) and classical music will become a more essential part of the musical landscape for a younger audience. (Caveat: I'm not saying classical music is irrelevant, at this point, for younger listeners. Don't get me wrong. For some folks, as soon as any genre hits even the smallest decline, they wring their hands and pronouce its death. "The novel is dead!" "Opera is dead!" etc. This isn't one of those post-mortem pieces.)

In addition to the NY Times piece, though, the great taste-maker of indie rock has weighed in as well. Pitchfork had a piece at the end of February called "Making Overtures: The Emergence of Indie Classical." The evidence of the indie-classical marriage is convincing, and I found myself experiencing the Pitchfork piece as a "this-has-been-there-all-along-and-I-just-didn't-notice-it" essay and not a "well-this-might-be-true" essay. Who knew that the classical ensemble yMusic has collaborated with Arcade Fire, Grizzly Bear, and Sufjan Stevens? The list of rock musicians who have formidable compositions, like Greenwood, Shara Worden, and Annie Clark, is impressive as well. In the article's own words, "For anyone trying to sort through genres [indie rock and classical music] to assign team jerseys, it's a mess, and often a glorious one."

Which doesn't bother me. In fact, it's really exciting. When I go home tonight and pour myself an after-work drink, I'm going to put on this playlist and revel in the glorious, intertwined mess that is indie classical.