In honor of Valentine's Day I thought it would be appropriate to write about a great musical love story. Too much is said about Brahms and Clara, so I thought I'd find another couple to write about. Below please enjoy a touching love story from music history: a story of romance, fidelity, and tragedy from the life of Olivier Messiaen, one of my favorite composers.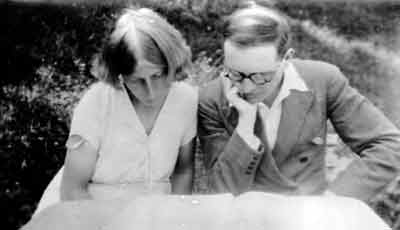 Olivier Messiaen is a 20th-century composer who is best known for his use of birdsong, innovative rhythms and harmonies, the Quartet for the End of Time, and occasionally for his thirty year marriage to the pianist Yvonne Loriod. However, not much is usually recalled of the composer's first marriage: a beautiful - albeit tragic - love story.
Claire Delbos was a young violinist and composition student who was studying at the Paris Conservatory in the 1920s. Olivier Messiaen, a pianist and composition student also studying at the Paris Conservatory, was initially drawn to Claire because of her fine playing. The two began performing recitals together, featuring the romantic violin repertoire, in Paris. They were married in June 1932.
Messiaen composed the Theme et Variations – scored for violin and piano - as a wedding present for his bride. "Mi" was his pet name for Claire, and this piece correspondingly centers on the pitch E. The young couple continued to perform regular concerts together. They were extremely devoted to one another, and in spite of the suffering caused by a long series of miscarriages, the young couple enjoyed a romantic marriage. The early years of their marriage included idyllic summers spent at a chateau in Neussargues-Moissac Cantal.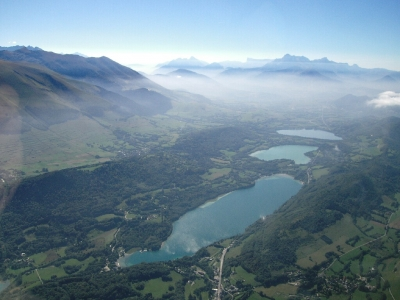 In 1936 they moved to a new house on the shore of the Lac du Laffrey in Petichut, alake which Messiaen described as being "like a big blue jewel." Their little house looked out over the lake and had a grand view of the Dauphiné Alps. The first piece that Messiaen composed here was Poemes pour Mi, a song cycle written with his own poems about the sanctity of marriage. The piece begins with thanksgiving for the beloved, concludes with an Alleluia, and was, first and foremost, a beautiful love letter for his wife, "Mi".
Claire also composed for her husband. She wrote several organ pieces for Olivier and also set to music a number of poems written by Cecil Sauvage, Messiaen's mother. She gave birth to their only son, Pascal, in 1937.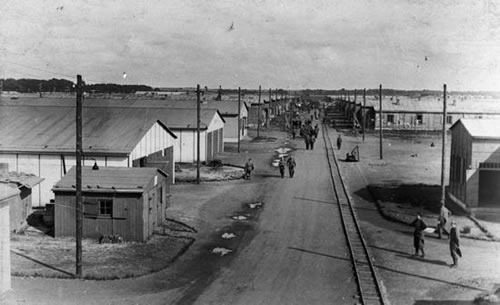 Messiaen was drafted into the French army at the outbreak of WWII. He was captured by the Germans at Verdun in
1940 and imprisoned in Stalag VIII-A, the prison camp wherein he composed the Quartet for the End of Time. After being released in 1942 he resumed life with Claire and Pascal, taking up a teaching position at the Paris Conservatory.

Claire's health, meanwhile, had begun to deteriorate and she underwent surgery in 1949 for what should have been a routine operation. But the procedure went awry: it left Claire with total amnesia. She had to be put into the care of a nursing facility, where Messiaen visited her daily until his busy touring schedule forced him, unhappily, to commend her care to other family members. Claire never left the nursing home and she died in 1959, a victim of cerebral atrophy.
Olivier Messiaen eventually went on to have a lifelong marriage with the great pianist Yvonne Loriod. They had a joyful, faithful union, but one cannot easily overlook the indelible love story that Messiaen shared with Claire. And, as musicians -- violinists in particular -- we are indebted to Claire in thanksgiving, since the only two pieces that Messiaen wrote for solo violin were written for his young bride.