For today's post, Nerissa Nields from Massachussets shares a story in response to Megan Crownholm's Suzuki Mom entry "When the Student is the Teacher." What I find especially exciting in Nerissa's entry is the way she closes the post: after a tough practice session, her daughter Lila plays a Bach minuet to their guests while the Western Massachussets sun sets behind the tree line. I think Nerissa gets the moment exactly right, its complicated mixture of relief, joy, and resolution. If you'd like to post about about being a Suzuki mom -- or on anything string-related -- email me at joec@sharmusic.com.



As I hope I have conveyed in this blog, I am not the model Suzuki parent. I sometimes wonder if such a creature exists. In my mind, all Suzuki moms and dads (other than me) are endlessly patient ("It's OK -- I am more than happy to wait while you scratch that spot behind your knee/rosin the bow with every single crumb of the "special" rosin/stop being a gelatinous version of yourself") and perpetually creative ("Hey! Let's spin the twister spinner, and every time it lands on the red we'll play that difficult spot twelve times!" or "Let's play the piece for the stuffed kitten. Let's make a baby violin for the stuffed kitten! I will draw one and color it in with water colors.")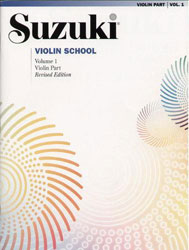 On my very best days, and on the days when Suzuki practice doesn't double as the time I nurse my two-year-old (which are about one in seven), I can employ a smattering of these qualities. But most days are not like this. Most days, I resort to threatening my daughter with the termination of violin lessons, which is mean, cruel and something I would never follow through with. I do this because I am in a hurry and don't want to take the time for her to get comfortable and ease into the practice herself. Also -- and this is testament to the exceptional quality of (and my daughter's love for) her teacher, Emily Greene -- I do this because it works. As soon as I threaten, or even invoke Emily's name, my daughter, Lila, perks up. For a few minutes, anyway.

I am not proud of this. But I don't want to mislead you into thinking I am some great mom, just in case you were fooled. What I am is determined, slightly insane and madly in love with my daughter. I am hoping the latter supersedes the former two.
But yesterday was different. It was one of those days when I didn't have my two year old. Indeed, at first, this seemed like a deal breaker for the practice. "Where's Johnny?"
"With Daddy and Kris."

"No fair! I want to be with Daddy and Kris!" (and gelatinous daughter wiggles on the floor, her bow over her forehead in a dramatic fashion). Instead of saying, "Look, if you want to take violin lessons you have to practice," as I usually do, I said, "Hey! Let's play around the world!"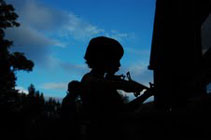 Around the world, as taught to us by Emily, involves playing one piece in every room of the house. But today, instead of following her around with my right hand on her left, straightening out her bent thumb and keeping her fingers out of the "swamp," I let her have fun, and I let her make mistakes. She marched from room to room, playing "Allegretto" kind of roughly, but with great joy and pleasure. And when we were done, she came back to the kitchen table and we went through her entire repertoire.

That night she played a concert for the writers on my retreat. The bugs were nibbling at the backs of our necks and the sun was setting behind the trees, and my little five year old was playing a Bach minuet. I felt redeemed and, as usual, determined to do better.

Read more blog posts by Nerissa Nields go to Singing in the Kitchen. You can also check out her new book All Together Singing in the Kitchen.