SHAR Apprentice and violinist Alberta Barnes makes the case for one of Beethoven's lesser-known masterpieces.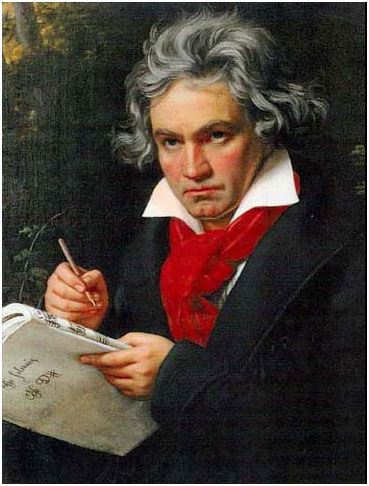 When we think of late Beethoven, we usually think "Ninth Symphony! Late string quartets!" and we go on to conclude that these are his greatest works. But what about his Mass? Have we forgotten his Missa Solemnis in D Major, op. 123? In my years of performance and ardent concert-going, I have yet to play this, see it performed, or even discuss the piece with any other musician, simply because no one seems to be familiar with it. However, the lack of popular familiarity with this piece should not at all diminish its value or significance.
Rather than attempting to launch into a musical analysis of a masterpiece, I prefer instead to present some ideas about the significance of the work and then let the music speak for itself.
First, the piece takes on immediate significance as Beethoven himself was particularly pleased with this composition. In his letter to F. Ries dated April 6, 1822, he declared the piece to be his "greatest work." He seconds this sentiment in another letter from June 5, 1822. Further, the portrait of Beethoven by Karl Josef Stieler (1820), pictured above, is likely his most famous image. It was painted with the unusual compliance of the composer who normally eschewed such sittings, and he chose to be pictured with the Mass out of all of his works. He seemed particularly fond of this piece, and is it not significant that Beethoven, who wrote instrumental music almost exclusively, turned to choral music in his mature years and found his greatest pride therein?
Secondly, the purpose of the Missa Solemnis is significant. It is indeed a sacred piece and Beethoven did intend it as such; he writes in his letter of September 1824, "My chief aim [in composing the Missa] was to awaken and permanently instill religious feelings…" And the music is indeed sublime. But while this was his primary objective in composing the Mass, there are other beautiful factors to consider as well, such as friendship and ceremony.
Beethoven dedicated this 80 minute work for his dear friend Archduke Rudolf of Austria to be performed on the occasion of his installation as the Archbishop of Olomuc. Beethoven certainly placed a high value on both friendship and ceremony. To the Archduke Rudolf, he wrote in 1819, "The day when a High Mass of mine is performed in honor of the solemnities...will be the most delightful of my life, and God will enlighten me so that my poor abilities may contribute to the splendors of that solemn occasion." And as far as friendship is concerned, can we be deaf to the emotive force behind Beethoven's inscription on the copy of the score given to Archduke Rudolf: "From the heart – may it return to the heart!"
During this holiday season, I invite you to allow yourself the time to listen to this great work; allow yourself to be compelled by the religous granduer and emotional force of the piece. The music, I believe, speaks for itself with uncompromised glory.
By Alberta Barnes