More this week on hybrid styles in American "classical" music.

I've still got Mark O'Connor, the fiddler, composer, and Grammy winner, on the brain. Thinking about his upcoming concert at West Bloomfield High School in Michigan (as well as his concerts in North Carolina, Florida, and Texas), I came across a brief essay written by violinist and former SHAR apprentice Phoebe Gelzer-Govatos.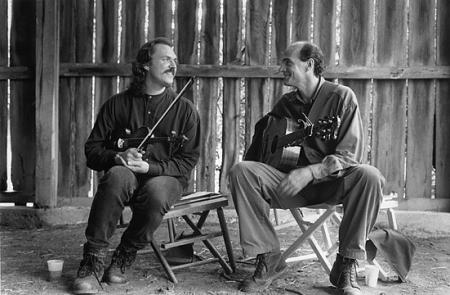 (Mark O'Connor & James Taylor)

Ms. Gelzer-Govatos's essay describes a new understanding of American "classical" music that seems to be gaining popularity. Classicly-trained American musicians, instead of striving for a European purity in technique and influence, are drawing on a range of distinctly American styles and genres, including jazz, folk, spirituals, bluegrass, and more. These American classics mix with their more traditional training. The point is not purity. It's syncretism.
Syncretism explodes safety in art. It opens up the borders of a tired art form. I think of Jean Cocteau's experiments in film, such as his Orphee trilogy, where dance, visual art, poetry, and film all mix under the heady influence of surrealism. Or the current experiments in the lyric essay, where poetry and the personal essay, two close cousins in the first place, are now sharing the same page. One might even point to the music video as a syncretic form.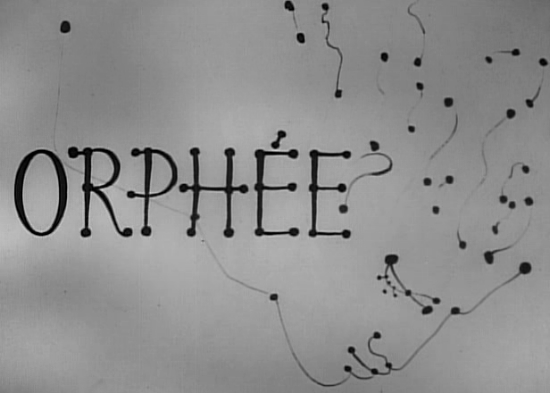 (The title sequence of Jean Cocteau's Orphee)

And while the American fiddler Mark O'Connor isn't doing anything as drastic as Cocteau, he is synthesizing a wide range of American musical styles. This syncretism within an art form seems just as important as the syncretism of different art forms; it gives new life to a form, or even jumpstarts a new genre.

As I wrote last week, it's exciting to hear about American musicans who are opening up the artificial boundaries of classical music. Opening up the boundaries of a style is risky, and it doesn't always work out. (Was jazz fusion a good idea?) But risk is inherent in good art. Phoebe Gelzer-Govatos writes in her article that learning the Lalo concert and moonlighting on the electric cello are both exciting, valid choices for a musician. I would go further and say that these choices shouldn't be isolated, and that the joy of off-hours playing absolutely has a home in on-the-clock playing. It's a matter of figuring out how to combine them.

Below, I posted YouTube clips and quotes from Jeremy Kittel and Mark O'Connor. Enjoy!



I was interested in many different styles of music and my classical playing at that time wasn't necessarily good enough to get into a lot of the good schools for it. The path that I found was to study jazz in college. At that point, I really didn't know that much about jazz. I auditioned at the University of Michigan for their jazz program, and they basically had me do some ear testing and general improvising. After my audition, my mom went out and bought me a Coltrane record and a Miles Davis record and I thought, "Wow, this is cool stuff. Maybe I'll try this out." And I kept on listening more and more and by the time college came around I was ready to go at it. I didn't know what I was getting into, but it's been a really major part of my musical development since then.
– Jeremy Kittel




Could the door to an American Classical music, once opened by such luminaries as Charles Ives, George Gershwin, Aaron Copland, Duke Ellington and Leonard Bernstein, be re-opening with 21st-century American composers and musicians? With a new focus on eclecticism and world music within the sphere of classical music, a growing interest in American concert music that is informed by American string playing styles is posed to have a major impact on classical music today. Contemporary musicians and composers may have another chance to swing the door wide open on developing American arts music with a lasting influence. American music, perhaps with the violin, along with its relative cousins, is leading the way for innovation in classical music.
– Mark O'Connor

Thank you for Reading! To receive notification of future blogs as well as other useful product reviews, guest blogs, company announcements, and entertaining articles, be sure to subscribe with your email address at the top of the page! Also, find SHAR on Facebook, Instagram, and Twitter.