For many, the thought of the violin brings to mind pleasant images of angelic beings gently bowing away upon soft, puffy clouds. The mild expressions of these angels radiate warmth as their long, flowing robes cascade over feathered wings and tiny cherubs. These images are fairly considered, since the violin is often the angelic voice that has sung many a doe-eyed bride down the aisle; the instrument is also well-beloved on pieces such as Ave Maria and Panis Angelicus. The violin has such a tremendous range of expression that it wields an undeniably powerful emotive force. We may even do well to consider the violin as an instrument of the divine. Yet, dare we ignore the violin's long-time affair with the devil himself? Perhaps this Halloween we should revisit this fiendish historical liaison as a more ghoulish alternative to carving pumpkins, bobbing for apples, or baking pie.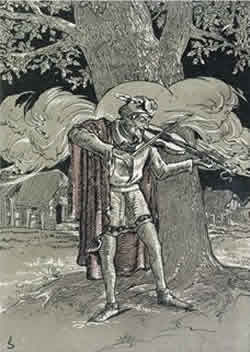 "The Devil's Violin" by Georges Spetz (1905)
Even in the Baroque era we already see some violinists who were good candidates for demonic possession. Giuseppe Tartini (1692-1770) was extremely prolific; he has over 200 violin sonatas and 140 concerti to his name. The vast majority of these compositions have faded into obscurity, however, leaving his "Devil's Trill" sonata as his most frequently performed piece. This sonata is undeniably more technically advanced than its contemporary Baroque sonatas; besides, the violin of the day was less technically capable than its modern counterpart, rendering these pyrotechnic trills all the more impressive. This G minor sonata, however, is a bit legendary due to a story that Tartini apparently reported to Joseph-Jerome De Laland, a French astronomer who spoke with the composer during a visit to Italy:
"One night, in the year 1713, I dreamed I had made a pact with the devil for my soul. Everything went as I wished: my new servant anticipated my every desire. Among other things, I gave him my violin to see if he could play. How great was my astonishment on hearing a sonata so wonderful and so beautiful, played with such great art and intelligence, as I had never even conceived in my boldest flights of fantasy. I felt enraptured, transported, enchanted: my breath failed me, and -- I awoke. I immediately grasped my violin in order to retain, in part at least, the impression of my dream. In vain! The music which I at this time composed is indeed the best that I ever wrote, and I still call it the "Devil's Trill", but the difference between it and that which so moved me is so great that I would have destroyed my instrument and have said farewell to music forever if it had been possible for me to live without the enjoyment it affords me." [1]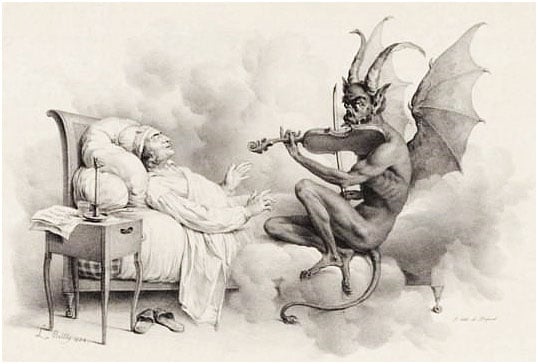 "Tartini's Dream" by Louis-Léopold Boilly (1761-1845).
This account, while certainly compelling, is not entirely verifiable. The autograph manuscript of the sonata is missing and its manuscript sources account for neither the diabolical dream nor the early date of the composition, suggesting instead that the piece may have been written as late as 1740. [2] Therefore we cannot ascribe Tartini's work purely to demonic inspiration, although, admittedly, the technical difficulty of the composition nearly requires superhuman skill. And, thanks to Fritz Kreisler's cadenza, the piece has become even more diabolically difficult in the modern era.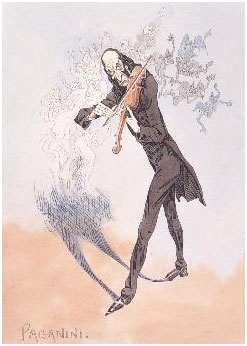 Niccolo Paganini (1782-1840), on the other hand, was more than rumored to be possessed by Satan. Not only did his feverish violin virtuosity merit speculation about the source of his ability, but his peculiar appearance and behavior only added fuel to the hellfire. Leigh Hunt, a contemporary of Paganini and a theater critic from London, describes his impression of Paganini's appearance in concert:
"We beheld the long, pale face of the musical marvel, hung, as it were, in the light, and looking as strange as need be … he is long-faced and haggard, with strongly-marked prominent features, [and] wears his black hair flowing on his neck … [His face seems] little better than a mask; with a fastidious, dreary expression, as if inclined to despise his music … When he makes his acknowledgments, he bows like a camel, and grins like a goblin or a mountain-goat." [3]
Additionally, Paganini indulged in certain lifestyle choices which made him susceptible to suspicions of demonic possession. He had a certain weakness for alcohol, women, and gambling, and was even rumored to have pawned his violin at one point in order to pay off a gambling debt. Additionally, Paganini died rather young and was denied a burial in the Church due to his refusal to receive Last Rites.
Modern scholarship has linked Paganini's superhuman virtuosity and gaunt appearance with some possible medical causes. It seems that Paganini likely suffered (and even died) from either Ehlers-Danlos or Marfan Syndrome. [4] In the case of Ehlers-Danlos, the patient's joints extend far beyond the normal range of motion due to deterioration of the joints. [5]
Marfan syndrome produces excessively long limbs and fingers. Either disease could account for Paganini's strange appearance as well as his remarkable ability on the violin -– he was said to be able to play three octaves simultaneously.
So was Paganini possessed by the devil? Maybe. It is possible that his incredible virtuosity combined with (or enabled by) his bizarre, sickly appearance was just too much for the audience of his day to attribute to natural causes. Then again, these things may have been manifestations of an underlying demonic possession. We may never know if Paganini chose the way of Faust, but the violinist has certainly left his mark of the concept of virtuosity. Franz Liszt, the virtuoso pianist of the 19th century, was heavily influenced by Paganini and was received similarly as well. The musical correspondent of Germany's musical journal, the Allegemeine musikalische Zeitung, wrote the following of him:
"We have now heard him, the strange wonder, whom the superstition of past ages, possessed by the delusion that such things could never be done without the help of the Evil One, would undoubtedly have condemned without mercy to the stake … Just look at the pale, slender youth …. The long, sleek, drooping hair, the thin arms, the small, delicately formed hands; the almost gloomy … face –- those features so strongly stamped and full of meaning, in this respect reminding one of Paganini, who, indeed, has been his model of hitherto undreamt-of virtuosity and technical brilliance from the very first moment he heard him and was swept away." [6]
And so it was that the tide of virtuosity, led by the potentially demonic advocates Paganini and Liszt, swept through western music. Subsequent performers have not looked back.
Today violin virtuosity is more widespread than it was in Paganini's day, due more to education than diabolical oppression. But our fascination with the violin and the macabre has not really abated, either. Demonic pieces abound and, more often than not, delight audiences with their sheer virtuosity and diabolicalness. Gil Shaham and Rachel Barton-Pine have even recorded entire albums filled with demonically themed pieces.
Yet, in spite of this longtime affair with the underworld, the violin still maintains her image and popularity with the sublime. The major Romantic violin concerti -– Brahms, Tchaikovsky, Sibelius –- still dominate the concert stage, and their popularity has yet to abate. Demonic frivolities, meanwhile, are little more than pyrotechnic show pieces which only augment the sublime masterpieces. The violin may be conducive to the work of the devil, but, as concert programs show us, she prefers to turn her song to the sublime. And, as any violinist should tell you, if Beethoven's Violin Concerto is ever legitimately displaced by The Devil Went Down to Georgia, it will be a truly evil day indeed.
by Alberta Barnes, SHAR Apprentice
Thank you for Reading! To receive notification of future blogs as well as other useful product reviews, guest blogs, company announcements, and entertaining articles, be sure to subscribe with your email address at the top of the page! Also, find SHAR on Facebook, Instagram, and Twitter.
[1] Joseph-Jerome De Lalande: Voyage d'un Francois en Italie, 2nd rev. edn. (Yverdon, 1770), vol. 8, pp. 189-190.
[2] Ibid.
[3] Houtchens, L.H. and C.W. Houtchens (eds.), Leigh Hunt's Dramatic Criticism: 1808-1831 (New York: Columbia University Press, 1949), 270-74.
[4] Angier, Natalie. "What ailed Tolouse-Lautrec? Scientists zero in on a key gene." NY Times 6 June 1995. Accessed online 25 Oct 2011.
[5] < http://www.mayoclinic.com/health/ehlers-danlos-syndrome/DS00706 25 > Accessed 25 Oct 2011.
[6] Lina Ramann, Franz Liszt, Artist and Man, trans. E. Cowdery (London, 1882), II, 315-18.