Though much of the rhetoric about American schools has been focused on math and science, test scores, and the growing gap between the quality of education in the United States and other first-world nations, the value of the arts and humanities in education is receiving national recognition during the month of October. Perhaps this recognition shouldn't come as too much of a surprise. Many economists such as Edward Glaeser (check out his recent book Triumph of the City) are beginning to recognize the value of creativity in our future economies; the development of our creative sides, through music and the visual arts, could be an asset (gasp!) instead of a hindrance. Huzzah for the economy of the future and for October.

So, now and forever more, October—and this was news for us, too—will be National Arts and Humanities Month. President Barack Obama asked the "people of the United States to join together in observing this month with appropriate ceremonies, activities, and programs to celebrate the arts and the humanities in America." Here's a tidbit from President Obama's Proclamation:
"Millions of Americans earn a living in the arts and humanities, and the non-profit and for-profit arts industries are important parts of both our cultural heritage and our economy. The First Lady and I have been proud to honor this work by displaying American art at the White House and by hosting music, dance, poetry, and film performances and screenings. The President's Committee on the Arts and the Humanities, along with the National Endowment for the Arts, the National Endowment for the Humanities, and the Institute of Museum and Library Services continues to recognize the skill and creativity of American artists, historians, and philosophers while helping educate and inspire our children through the power of the arts and humanities."
For all you musicians, educators of musicians, and parents of musicians out there in the blogosphere, this proclamation should make you feel warm and fuzzy inside. You might even want to do a little dance before rehearsal or when you go to pick up your kid(s) from orchestra practice. For us at SHAR, as providers of string instruments and accessories to musicians everywhere, this proclamation doesn't make us feel all that bad either. Finally, a little recognition for the arts!

Anyways, enough about our feelings. We at SHAR thought that National Arts and Humanities Month would be a good time as any to share our commitment to string education and to the American String Teachers Association (ASTA). For the past 60 years, ASTA has tirelessly worked for the advancement of quality string playing, setting standards, conducting workshops, promoting string music to young people, and encouraging the public to discover the challenges and rewards of playing a bowed string instrument. Thousands have found their voice because of the work and teaching of ASTA members, whose dedication and influence has been profound. Certainly, it's no small thing to find your voice as an artist. In fact, it's a life-altering occasion, and anyone like ASTA who helps young musicians in this endeavor deserves a special medal, a pat on the back, a tip of the hat. Maybe even a mention in a blog post. But let's not get carried away.
So, beyond nice gestures and blog posts, how is SHAR contributing to the arts in America and to ASTA's mission of advancing string education? SHAR is donating up to $30,000 of Presto Carbon Fiber bows to support ASTA programs nationwide. These durable and high-quality bows will go to students in need in every ASTA region, to advancing students who win State Solo contests, and to the top three winners of the national junior and senior contests. We think our Presto Bows are a special product, and it's the least that we can do to support aspiring string musicians and schools.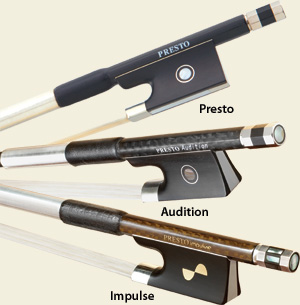 Hopefully, National Arts and Humanities Month will gain traction in future years. Perhaps it even suggests a sliver of hope for music and arts programs in our schools? Again, it's good not to get too carried away; more funding for the arts would be a cause for real celebration. In any case, it's a swell time to give a shout-out to ASTA and to give deserving students a few PRESTO bows. All of this is to say: we're reaffirming SHAR's commitment to the arts during National Arts and Humanities Month and all during the 2011-2012 school year through our PRESTO bow giveaway.