Niccolo Paganini
October 27, 1782 - May 27, 1840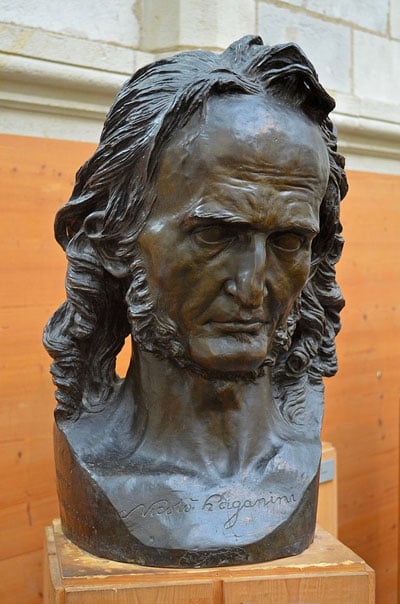 We have all heard the tales behind Paganini. You know, the ones about selling his soul to the devil, making women all over cry and faint, hands made of rubber, losing his violin at a game of cards. But who exactly was the man behind the legends? What else is there to Paganini's life besides all of the gimmicks and smoke-and-mirrors? In honor of the legendary violin virtuoso's birthday, we're here today to fill you in on all the things you probably didn't already know about Niccolo Paganini.
We all know that Paganini's skill was unparalleled in his time. He obviously practiced a ton, but did you know that he practiced so much because if he faltered, his father wouldn't let him eat? He was a child prodigy who was composing by the age of 7 and playing in public by the age of 12. His early brilliance paid off: he received numerous scholarships for violin lessons. All that success at such an early age must have overwhelmed him, because he would go on to struggle with alcohol. Gambling and women too, for that matter…
At age 18, Paganini won a job!! He began playing in the first violin section of the Republic of Lucca, but that wasn't what provided his entire living at the time; a substantial source of his income came from freelancing. See, all you freelancers? Even Paganini did it, too! I wonder if he had to pay taxes and union dues on every single gig, like us?
Speaking of finances, Paganini had some questionable investment ideas. Instead of going to his trusted financial adviser, he decided to try operating and investing in the Casino Paganini, a gambling house in Paris. I think it was a legit business, except for the minor part about its failure to make money and Paganini having to auction off his personal items (including instruments!) to recoup his losses. At one point he pawned his violin because of gambling debts. Since he had a concert to play, a French businessman named Livron lent him a Guarneri (was he just like keeping it in his attic???) and after hearing Paganini play ridiculously well, this man gave him the Guarneri to keep. This Guarneri would come to be known as "Il Cannone Guarnerius."
Here's something you might not have known about Paganini. Paganini wasn't just a hedonistic or self-indulgent womanizer all the time; he had a kind and caring side. He reportedly did some charitable and generous things. He gave a charity concert in 1832 for victims of a Parisian cholera epidemic (which greatly inspired Liszt to match his virtuosity). He once gave a gift of 20,000 francs to help out a fellow composer, Hector Berlioz. Berlioz was struggling financially at the time, and Paganini gave him this gift in an act of generosity, possibly because he felt that Berlioz was a worthy talent and that it was his duty to come to the aid of "Beethoven's successor". Seems even more generous when you take into account that Paganini wasn't always so financially stable himself.
Another thing you probably didn't know about Paganini? He was a single father, and he brought his son on concert tours with him. His son, Achilles Cyrus Alexander, was born in 1825 to a vocalist mother, Antonia Bianchi. Paganini might have had a lot of affairs, but he was seriously involved with Antonia; the two concertized throughout Italy together for years. Paganini and Antonia never officially got married, but she was probably his longest, most committed lover; they met in 1813 and ended their relationship around 1828.
We've all heard about Paganini's ridiculous showmanship at his concerts. I bet you haven't heard this story: it is reported that Paganini would cut the strings of his violin (by severing the string with a razor he attached to his finger) one by one, until only the lowest string remained. He would also show off by playing his famous Witches Dance on only ONE string (this piece would later inspire the Suzuki song in book 2). This astonished audiences who had never seen anything like this before. He would use artificial harmonics and left-hand pizzicato quite extensively in his performances. While these techniques were not invented by Paganini, they became much more mainstream as a result of his shenanigans.
We most often respect Paganini for his playing skills but often overlook his talents as a composer. Maybe he didn't compose as many pieces as Telemann or Haydn, but many of his compositions are very creative and unique. His 24 Caprices are not just for showing off; there is real, imaginative music in them. He sought to imitate other musical instruments like the flute and the horn (especially in his 9th caprice) as well as animals. He also composed quite a few pieces for the guitar; some of them were for guitar and violin. As a result of his compositions, the scope of what could be written for and done by violin was greatly expanded. His works that feature orchestra, like his concertos, often resemble a typically Italian, Rossini-esque sound. His compositions often demand that the violinist demonstrate flexibility, dexterity and agility. As a composer, he wasn't afraid to demand more technical and musical excellence out of the player. As a result, his compositions are very rewarding for a violinist who masters them, but they basically require more practice than other works for violin. Like a lot more practice. Thanks, Paganini.
It's not very well known that Paganini struggled with health issues his whole life. Some believe that his long limbs and super-human flexibility came from Marfan's and Ehlers-Danlos diseases. The impressive sight of his flexibility was definitely a contributing factor in his rumored association with the devil. He also reportedly suffered from depression throughout his life. After contracting syphilis, he tried a remedy that involved mercury and opium, which only gave him more issues. Later he would suffer from tuberculosis as well. The same year he ended his relationship with the mother of his child, he needed jaw surgery and had all of his teeth removed (not a good year for him). Towards the end of his life he lost his voice and eventually died from internal hemorrhaging.
When Paganini died on May 27, 1840, he was not promptly buried. As in, not-for-36-years not promptly buried. Because of his so-called pact with the devil, Paganini was denied a burial by the Catholic church. There was a lengthy struggle with the Church and an appeal to the Pope, and four years later the Church finally relented and allowed Paganini's body to be taken to Genoa. However, he was still not buried. In fact, he wasn't buried until 1876 in Parma. To make matters even more complicated, his body was exhumed for a viewing in 1893, so Paganini's remains were reinterred in a new cemetery in Parma in 1896, fifty-six years after his death.
Something Extra To Check Out:
You can see the original papers that detail Paganini's financial transactions and also his musical scores. You can even view Paganini's own handwritten ravioli recipe. You can check it out, amongst other interesting Paganini tidbits, at this Library of Congress website below, thanks to the Gertrude Clarke Whittall Foundation Paganini Collection.
Recommended Recordings:
Paganini by Midori
24 Caprices
Sony Classical Label
Paganini by Gil Shaham and Giuseppe Sinopoli with the New York Philharmonic
Paganini Violin Concerto No. 1 in D Major, Op. 6
(paired with Saint-Saens's Violin Concerto No. 3)
Deutsche Grammophon Label
Paganini by Sarah Chang
Cantabile in D Major
(paired with several other short pieces on the Sweet Sorrow album)
EMI Classics Label
Paganini by Eugene Fodor with Kiyoshi Tomagawa
Witches Dance
(paired with other pieces on the Witches Brew album)
Clarity Records Label
Rachmaninoff by Artur Rubinstein
Rhapsody on a Theme of Paganini
(paired with Rachmaninoff's Piano Concerto No. 2 & Vocalise)
RCA Victor Label
Sources:
1. Wikipedia Article: http://en.wikipedia.org/wiki/Paganini
2. http://listverse.com/2010/05/10/10-people-who-sold-their-soul-to-the-devil/
3. Encyclopaedia Britannica Article: http://www.britannica.com/EBchecked/topic/438172/Niccolo-Paganini
4. http://www.biography.com/people/niccol%C3%B2-paganini-21196451#musical-career-