Claude Debussy
Born August 22, 1862, Died March 25, 1918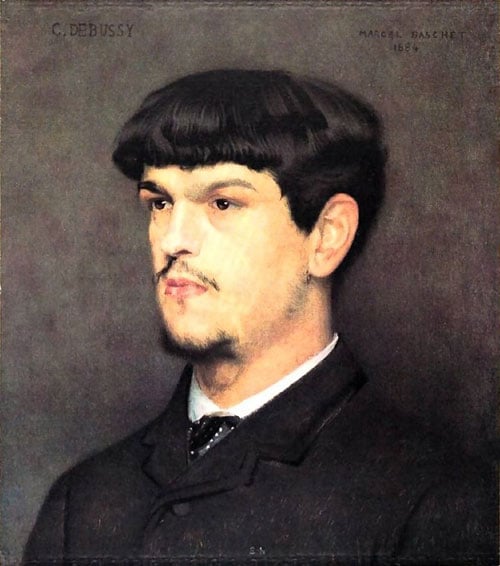 Don't like contemporary classical music? Debussy might be to blame. Many would say that his compositions set in motion the eventual breakdown of traditional tonality as well as many of the ideas and explorations of music in the 20th century. Often associated with the impressionist movement, Debussy dared to use unprecedented compositional techniques that affected the direction of classical music. His use of non-traditional scales, chromaticism, and his frequent avoidance of traditional tonality all contributed to his trademark sound. His music often has a dream-like quality to it; it's frequently abstract, very melodic and emotionally expressive. Nowadays, Debussy's style of music is well known and widespread, but when it was first introduced in the late 1800s and early 1900s, it was revolutionary.
Because he was a pianist himself, the majority of Debussy's compositions were written for solo piano as well as voice and piano. He also penned symphonic poems for orchestra, chamber music, several works for solo instruments and orchestra, as well as a few sonatas. So you might wonder, why is Debussy on the hook for how classical music sounds today? To understand this, you'll want to know more about Debussy's life, his influences and how they both impacted his compositions.
Early Life and Influences
Claude Debussy was born on August 22, 1862 in Saint-Germain-en-Laye, France. In order to escape the Franco-Prussian war, the family fled to Cannes, where Debussy began piano lessons. Debussy made rapid musical progress that led him to attend the Paris Conservatoire where he studied from age 10 until 21. While he was at conservatory, Debussy proved to be a talented music student who wasn't afraid to challenge his teachers' authority and experiment with cutting-edge musical techniques, dissonant harmonies, and intervals and scales that rejected musical norms. Debussy was very inspired by Symbolism, the French literary style of his period, both musically and personally, and his music reflects the Symbolist movement's interests in the esoteric and indefinite, in the spiritual and romantic idealism that rejected the naturalism and realism that preceded this time.
Another notable influence on Debussy was the Javanese gamelan music that he heard at the World's Fair in 1889. In general, he demonstrates fondness for pentatonic scales, melodies, rhythms, and the ensemble textures of the Javanese music. You can hear a lot of these things in the Pagodes movement of his composition Estampes.
During Debussy's visits to Bayreuth (a town in Bavaria, Germany), he was inspired by Wagner and his operas. It's likely that Debussy was most attracted to Wagner's pushing the boundaries of traditional harmony, as seen by Wagner's usage of extreme chromaticism, harmonic suspension, and the "Tristan chord." Basically, all these things are evidence of the general transition away from traditional tonal harmony. These innovative compositional techniques would have left an impression on Debussy, and therefore you can see Wagner's influence in Debussy's writing.
The Children's Corner Suite, written in 1908, was dedicated to his beloved daughter, Claude-Emma, whom he affectionately referred to as "Chouchou." The Children's Corner Suite features shades of classicism such as Clementi's influence as well as American ragtime music which was gaining popularity at the time. In the final piece of the suite, Golliwogg's Cakewalk, Debussy also pokes fun at Richard Wagner by mimicking the opening bars of Tristan und Isolde, an opera by Wagner. Golliwogg's Cakewalk eventually became one of the most recognized tunes by Debussy; one can even hear arrangements of it performed by sax quartets and string quartets.
An example of one of his solo piano works is Suite Bergamasque. As one of his earlier compositions, Suite Bergamasque is especially famous for one of its movements, "Clair de Lune." "Clair de Lune" can be heard today in various movies and TV shows, including the movies Ocean's Eleven and Twilight.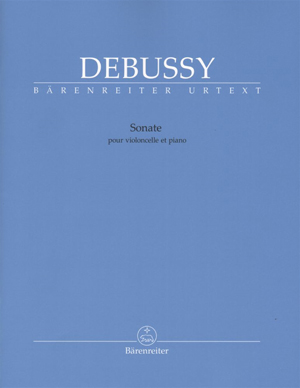 Mature Work
In 1894, Debussy wrote one of his most famous works, Prélude à l'après-midi d'un faune (Prelude to the Afternoon of a Faun). It is based on an erotic poem written by Stéphane Mallarmé, a notable figure in the Symbolist movement. Almost improvisational sounding, this symphonic poem is unique, innovative and most definitely original—nothing had been written like this before! Due to its emphasis on tonal colors, different instrument combinations and timbre, it reflects the direction in which Debussy was heading. Prélude was eventually made into a short ballet that was choreographed and performed by renowned dancer Vaslav Nijinsky. The ballet was received with mixed responses, perhaps due to the controversy it caused by its suggestive content.
Composed between 1903 to 1905, La mer (The Sea) is a work for symphony orchestra. Debussy called this piece "symphonic sketches," avoiding the use of the word "symphony."(Perhaps this was another way of his defying the establishment?) Nonetheless, it functions similarly to a traditional symphony, with its finale movement featuring themes that are heard in the first movement. The work was initially received with mixed reviews, perhaps due to the fact that Debussy found himself in the midst of a scandal at the time, having recently left his first wife for another woman. The piece has gained more popularity in more recent years and is a frequently programmed orchestral work.
In his later years, Debussy had planned to write a series of instrumental sonatas, entitled Six sonates pour divers instruments. He only completed three of the six sonatas he planned to write. The first one, written in 1915, was the cello sonata; he also wrote a violin sonata and a sonata for flute, viola & harp. The cello and violin sonatas are commonly regarded as staples of the repertoire for each respective instrument. In his later compositions, Debussy used whole tone scales as well as chords that didn't ever seem to resolve, described as "floating chords" that helped set the mood and tone of the late works.
Legacy
Debussy is widely regarded as one of the most influential composers of the 20th century. You could say he's responsible for some of the harmonic chaos behind modern composers such as Stravinsky, Messiaen, Dutilleux, or Bartok. Because of Debussy's contributions, the new generation of composers gained the latitude and freedom to explore new possibilities in the handling of notes and the scope of music. Not many of these succeeding composers actually directly imitated Debussy's music, but rather were empowered by Debussy's music to create original outrageous melodies or abandon them altogether, to experiment with extremely complex rhythms and, at times, to completely disregard traditional harmony. You can even see evidence of Debussy's legacy extending into modern times; in 1999, an English pop group called The Art of Noise released a concept album titled The Seduction of Claude Debussy. In the album, they blended Debussy's compositions with their own creations, using drum, bass, opera, hip hop, and jazz while paying homage to Debussy's greatness.
But let's face it: all of the aforementioned isn't the only proof of Debussy's enduring legacy. You know you've made it in the music world, when Google makes a Google Doodle of you! The Doodle plays the first half of Clair de Lune, in celebration of his birthday. Happy Birthday, Claude Debussy!
Recommended recordings:
Debussy by Pierre Boulez with the Cleveland Orchestra
La Mer / Nocturnes / Jeux / Rhapsodie pour Clarinette et Orchestre
Deutsche Grammophon Label
Debussy by Pierre Boulez with the Cleveland Orchestra
Images / Prélude à l'après-midi d'un faune / Printemps
Deutsche Grammophon Label
Debussy by Midori
Violin Sonata in G Minor
(paired with Poulenc & Saint-Saens violin sonatas)
Sony Label
Debussy by Debussy (the composer himself plays his piece)
"Golliwog's Cakewalk," from the Children's Corner Suite for piano