Leonard Bernstein
August 25, 1918 – October 14, 1990
"To achieve great things, two things are needed; a plan, and not quite enough time."
-Leonard Bernstein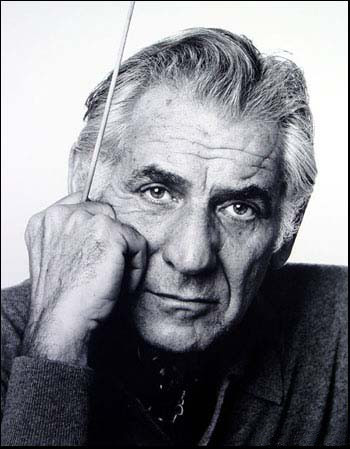 That's kinda how I feel about writing this blog. Bernstein is such a huge musical figure that it seems like there won't be enough time (or space on this blog!) to share everything worth knowing about him. It is also true of Bernstein's life; he often achieved great things despite not having much time. His different roles in several areas of music, as a composer, conductor and educator, led him to high acclaim and worldwide recognition. He composed so much music: Broadway musicals, symphonies, choral works, film scores, music for solo piano and other instruments, and many other pieces.
Leonard Bernstein is a musician who is the most prominent symbol of America's legitimacy in classical music. We can be especially proud of Leonard Bernstein, as he was among the first conductors born and educated in the United States of America to receive worldwide acclaim. Before Bernstein, most famous conductors were either born or educated in Europe. Bernstein was part of the generation of composers who began taking different styles of music, such as jazz, and merging all of it to form an American sound in the classical world. Bernstein also became the embodiment of a truly American musician who achieved at the highest levels in all aspects of music, in a field previously dominated mostly by Europeans.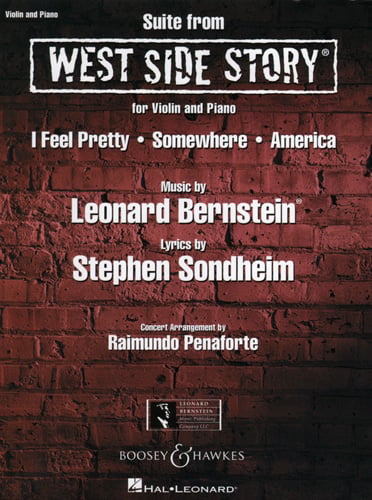 This American sound is best represented in his musical, West Side Story. This popular musical endures today as a composition with some of the most fun, catchy, lovable tunes. The musical hit Broadway in 1957, and by 1961, Bernstein prepared a suite of orchestral music from the show, titled Symphonic Dances from West Side Story. The Symphonic Dances have become a part of the standard repertoire for American orchestras all over the country. Another notable work is Bernstein's 1971 Mass. Commissioned by Jackie Kennedy, this is a massive (no pun intended!), grandiose piece written for a huge orchestra and choir. Bernstein is also known for composing Candide, an operetta based on a novella of the same name by Voltaire.
As a child, I remember hearing Candide for the first time, because my violinist mother was practicing it for a performance. I recall wondering who wrote such colorful, imaginative but also groovy music. The kinds of sounds you hear in Candide are typical of Bernstein's music; he was generally inclined to include rhythmic, jazzy tunes, crazy harmonies, mixed meters and a lot of brass and percussion to top it off. Bernstein's music also incorporates some Latin flair (especially in West Side Story), which is something I appreciate. Not all of Bernstein's music is like this, though; his symphonies are quite different and more classical. I found that the more music I heard from Bernstein, the more I loved it. This led me to explore Bernstein's many recordings; they possess something really special to them, an extra energy that isn't commonly found in studio recordings.
Bernstein's Rise to Fame
Believe it or not, Bernstein's rise to fame originated with something as random as the flu virus. On November 14, 1943, the great conductor Bruno Walter came down with the flu. On short notice, Bernstein made his major conducting debut filling in for Walter as conductor of the New York Philharmonic, leading them in a very difficult program of Schumann, Miklos Rozsa, Wagner and Richard Strauss's Don Quixote. He managed to pull off a very successful concert, despite not having any rehearsal. He became instantly famous after the concert was nationally broadcast and the NY Times printed his story on the front page.
Bernstein spent many years as the Music Director of the New York Philharmonic. He once said, "I'm not interested in having an orchestra sound like itself. I want it to sound like the composer." He served as the NY Phil conductor from 1943 until 1969, when he stepped down to try to make more time for composing and other pursuits. He never accepted a conducting position anywhere again.
Personal Life
A noteworthy aspect of Bernstein's life story is his personal and love life. Like a lot of us creative types, Bernstein excelled in the professional arena but struggled in his personal life. Bernstein's sexuality was often under speculation and debate over the years. A lot of musicians today assume he was a gay man but was not more open about his sexuality when he was younger. In 1987, his personal life became a lot more public when his homosexuality was mentioned in Joan Peyser's "Bernstein: A Biography." Nonetheless, Bernstein was married to his actress wife Felicia Montealegre for many years and they had three children together. Their marriage was not always an easy one; they had conflict and issues in their relationship, perhaps in part because Bernstein traveled and was gone a lot. They eventually were separated a few years before her death in 1978. As rumor has it, their separation was because she made discoveries of his affairs with other men. For more insights about Bernstein's personal life and musical journey, you might check out his book of letters that was published in October 2013, The Bernstein Letters. This recently published book includes correspondence between Bernstein and his wife, sister and other musicians, such as Aaron Copland and Stephen Sondheim.
Cultural Legacy
Leonard Bernstein passionately believed in educating the next generation in music. He appeared on TV in the early 1950's on the "Omnibus" series, educating other adults in segments about classical music. He then went on to host his "Young People's Concerts" on CBS, teaching children about different aspects music. Recalling Leonard Bernstein's wide influence, his daughter, Jamie Bernstein, wrote on her father's website:

"To think that for a while there, Leonard Bernstein's Young People's Concerts with the New York Philharmonic were on CBS primetime television!! All over America, families gathered in their living rooms in front of their big, bulky black & white TV sets, and watched Leonard Bernstein tell them all about classical music. I can't tell you how many people come up to me now, everywhere I go in the States, and they say something like: "Oh, I used to watch your father's Young People's Concerts on TV, and I've been a music lover ever since!" And an equally large number of orchestra musicians come up to me and say, 'I watched the Young People's Concerts when I was a kid, and that's why I'm a musician today!' "

This TV series can be obtained through purchase or at some libraries. I was able to view it as a teenager, and it made an unforgettable impression on me when I saw it on video. I was completely entranced by Bernstein's manner of explanation and teaching style; he is so articulate, clear and informative. He manages to explain the some of the most complicated musical subjects in an entertaining and interesting way. After I had viewed some of these videos, I was introduced to his Norton Lectures. Again I was taken in by Bernstein's clear, informative and entertaining style. As someone who's been through a lot of music education, I can really appreciate this!
Bernstein was no stranger to the public eye. In addition to his TV shows, he won several awards, including several Grammys, the Grammy Lifetime Achievement Award, and the Kennedy Center Honors award. He had the honor of conducting at President John F. Kennedy's pre-inaugural gala, and stayed in touch with the Kennedys as a frequent White House guest. He was even asked by the Kennedy family to conduct at Robert ("Bobby") Kennedy's funeral in 1968. Jackie Kennedy later wrote to Bernstein thanking him for the music, saying "I thought it the most beautiful music I had ever heard. I am so glad I didn't know it—it was this strange music of the gods who were crying…."
Leonard Bernstein made his final performance as a conductor at Tanglewood in August 1990 with the Boston Symphony. He announced his retirement from conducting in October 1990 and passed away five days later. He was 72 years old. He was buried next to his wife in New York, with a copy of Mahler's 5th Symphony lying across his heart.
"Music can name the unnameable and communicate the unknowable."
-Leonard Bernstein
Recommendations:
Bernstein by Hilary Hahn with David Zinman and the Baltimore Symphony,

Serenade for Solo Violin, Strings, Harp and Percussion

(paired with Beethoven violin concerto),

Sony Label

Mahler

by Leonard Bernstein with the New York Philharmonic (

Symphony No. 5 in C# Minor),

Sony Label

Bernstein Conducts Bernstein

(Box Set) with the New York Philharmonic, I

ncludes

Candide

,

Symphonic Dances from West Side Story

,

Symphonies 1,2 & 3

,

Mass,

Sony Label

The Joy of Music (book)

, by Leonard Bernstein:

"For all music fans who wish to experience music more fully and deeply through one of the most inspired, and inspiring, music intellects of our time. Employing the creative device of "Imaginary Conversations" in the first section of his book, Bernstein illuminates the importance of the symphony in America, the greatness of Beethoven, and the art of composing."