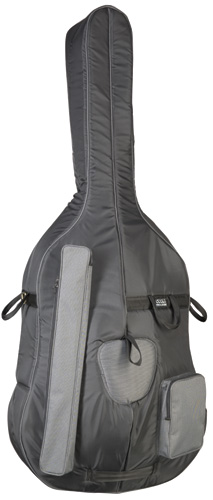 If you play the bass, you're going to need a bass bag. Here at SHAR we carry a few different bass bags, but here is our advice on which ones to consider.
First, we offer something called the Heritage Bass Bag. It comes in different sizes and it has very good foam padding of 25 mm thickness. It comes with straps and zippers, and in general, it's well constructed. This bag comes with more handles than the less expensive version of this bag (the one with 5 mm thickness). The Heritage Bass Bag in 25 mm thickness comes with pockets to keep music and accessories, and it also features backpack straps. This is a highly recommended option.
There is a different, slightly pricier Heritage Bass Bag as well. The main difference with this one is that it comes with wheels. This bag is the most expensive option, but it's a great bag! This is because it has lots of carrying handles, padding and zippers, one large sheet music pocket and two heavily padded backpack straps. A side note- wheels are usually used indoors and are not necessary for every player. In fact, some players find them to be more hassle than help, especially when navigating through doors and other tricky spaces. Regardless, this Heritage Bass Bag is a great bag because it has great 25 mm padding and is a protective option.
There are a couple different Cushy bags. The Cushy Classic and the Cushy Max are decent bags with good padding, but they only come with a shoulder strap, not backpack straps. They often are a tight fit on some basses' lower bouts, or don't fit certain basses at all, so it would be wise to try out the bag first or have the dimensions of your bass handy to determine if it'll work for you. The main difference between the Cushy Classic and the Cushy Max bags is the exterior; otherwise, most other features are the same.
We also offer the double bass buggie. This is one of the safest and easiest ways to transport your bass. This one-size-fits all device fits any bass from 1/10 to 4/4, and provides wheels to help you transport your bass. It doesn't put pressure on the lower block, unlike a traditional endpin wheel. Even better, you can put it on in just a few seconds and be on your way. You can use it with your bass in or out of its bag, without removing your endpin.
Unfortunately, there aren't as many options for bassists, but we hope that our advice might help you choose!