Most SHAR employees are players in addition to being luthiers, salespeople, purchasers, or web developers. So when one of our senior customer care specialists asked to attend the Phoenix Phest Grande Suzuki Teacher Training Workshop, we said, "Sure! But can you also blog about it?" Not only has Alexandra Ostroff sent us dispatches from her training workshops, she's generously shared her reflections on the Suzuki Method, allowing us to witness the discoveries and challenges of this week-long session at Phoenix Phest Grande.

August 7, 2013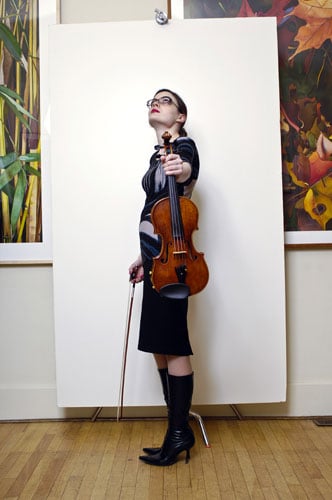 Today started with going over the teaching points for more of the pieces in Book 1. We continue to be hands on with our approach to learning the things we need to focus on for each piece. Our teacher is doing a great job of demonstrating what the typical troubles that the little ones will have with each technique.

I really appreciate that after we went over teacher training points the next topic that we addressed was running a studio. It was not a topic that I thought would be addressed at teacher training, but is most definitely something that any new teacher needs assistance with. We had a lecture/group discussion going over the necessities of creating a business for yourself and producing a high level of excellent from your students. What good would all of this training be if we trainees went back to our homes and studios and did not enforce what we've learned? Our assignment for tonight is to create a studio policy to give the parents of our students. This is a simple upfront contract of what you expect from the parent and student when they join your studio. Having a policy in place makes it easier for you to focus on learning in your lessons. Payment, attendance and cancellations have already been addressed and you seem more like a business than just some girl that is going to teach their child violin.

This point leads me to the other invaluable bit advice that we were given. Look the part when you are teaching your lessons. If you put the effort into looking professional (business casual) then you are establishing being a professional to your student and their parent. They will know that you take yourself seriously and this will work in your favor when teaching and enforcing polices. It's hard to remember that your studio is a business and it's your business. Once this has been established in your mind and the actions are taken to exude that to your clientele, it will help your enhance the learning that occurs within your studio.


August 8, 2013

Wow, day six. I would have never guessed how much I could learn in these days! Today's focus was continuing the in-depth analysis of the teaching points in Book 1. All of these skills are fresh in my mind because they are the focus of our lecture and lesson observation.

After our day of lecture and observation today, I headed over to the practice room to run through Book 1 and then focus on some orchestral excerpts and the concerto I am currently learning. As I started my personal practice I noticed something different in my approach. I was applying the concepts that we had been discussing this week to myself. Before starting to play I made sure that my head was supporting my instrument and my left hand was free of tension, I listened for the ringing tones on my instrument in my warm up scale, I focused on opening and closing my arm at the elbow to obtain a clear tone. I'm not saying that these are not things that I have been striving for in my playing until this point, but that after having been out of school for five years something clicked. I hope that I will continue to bring these core skills to my attention in my warm up for future practice sessions and to continue to improve my skills with dedicated practice.