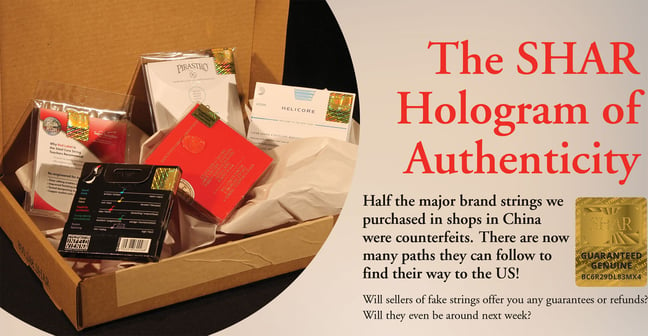 There have been rumors about counterfeit strings for violin, viola, cello, and bass infiltrating the market for at least a decade. When I heard of "counterfeit strings", I mostly imagined packaging that looked like it came out of an Inkjet printer, and obviously cheap strings with noticeably altered thread colorations. As popular brands of strings continued to pop up online at wildly low prices, it was time to do some deep investigating. What SHAR found was very troubling: obviously inferior strings of unknown composition and origin, with nearly perfect packaging and presentation. SHAR began buying up these strings, dissecting them, showing them to manufacturers, and searching for the source of these knock-offs, which led us across three continents and deep into the shadowy world of counterfeit products and online marketplaces.
The number of counterfeit violin strings produced and circulated in China is truly staggering. It might seem odd at first that anyone would see the reward in selling phony strings, but when you begin to consider the already well-known market for counterfeit products like electronics and DVD's, and then keep in mind that most premium violin strings are worth much more than their weight in iPhones, it becomes apparent that strings are unfortunately uniquely susceptible to counterfeiting.
Easy to imitate.
Easy to smuggle.
Easy to hide the tracks.
With our globally connected markets, it is simple to imagine how these counterfeit strings can quietly make their way into the US, just like many other counterfeits. A similar problem is "Grey Market" strings, which were intended to be sold outside the US, but somehow make their way here. We traced one shipment from the manufacturer, to Eastern Europe, to Mexico and finally to the US. They changed hands at each step, so there is no way of telling just how long they took to finally arrive and what may have happened to them along the way.
Most of these fake strings reveal their true identity when they are installed, through awful tone, falseness, short lifespan, or even high tensions that are dangerous to your instrument.
We can't speak for others experiences, but what we have seen leads us to be concerned about what players may end up with. We can, and do, guarantee that all strings sold by SHAR are authentic. SHAR is seeking to raise awareness of counterfeit and grey market strings, and to put concerns to rest with a new method of string tracking.

The new SHAR hologram will be placed on all strings sold on sharmusic.com, through our phone center and Showroom, as well as orders placed through Amazon and eBay that ship directly from SHAR. Each hologram has a unique serial number on it, as well as our Trademarked logo, guaranteeing that strings purchased from SHAR are authentic.
String companies have traditions, histories, and manufacturing processes that in some cases go back centuries. They make exacting tolerances, use pure and ethically sourced materials, follow rigid quality assurance, and offer excellent customer service. We stand with them and the products they produce just as we stand by our loyal customers. As SHAR CEO, Charles Avsharian puts it: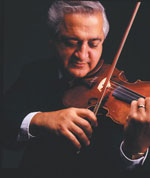 "For 55 years our family has stood behind what we sell. Your satisfaction is our goal, and the SHAR Hologram is one more step that we have taken to protect you and the string community." - Charles Avsharian, SHAR CEO