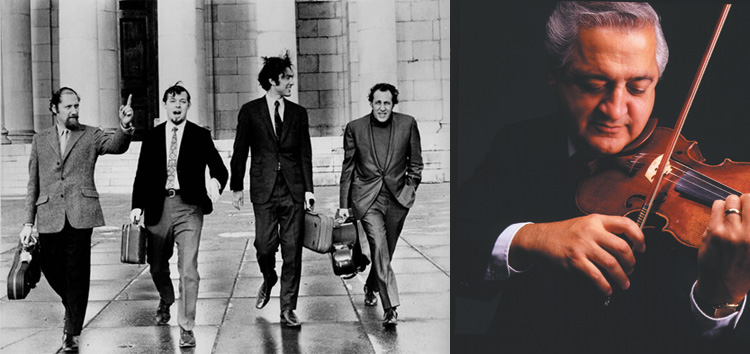 The Guarneri String Quartet (photo by Erwin Fischer) and Charles Avsharian
Arnold Steinhardt and I have shared decades of wonderful times beginning back in the '60s when we both participated in the Marlboro Festival. We had also been on a tour together where he was the featured young artist and I was in the small chamber group backing him. While we both studied under Ivan Galamian at the Curtis Institute and Meadowmount, it wasn't until later that we actually met and formed a long-lasting friendship. Our mutual friends were many… all fun-loving young men and women from the finest musical backgrounds. What we all had in common was our passion for music… and having as many laughs as possible. Over the years, I'm happy to report, our strong link of a warm friendship has never waned.

We have kept up our happy valued relationship over the years… through the family times, the Guarneri times, my SHAR years, publishing the quartet's Beethoven quartets (including some hours of amazing, unpublished videos made in his family apartment in NYC), dozens of concerts, and continuing up through current times. I can't remember a time when a broad smile wouldn't spread across my face after having lunch together or just hanging out for a while. Arnold is just that sort of person… he brings out what humor and joy you have that might be waiting for a tickle. His writing continues to tickle me… and I am absolutely certain that it will tickle you as well.

Charles Avsharian
CEO, SHAR Products Company

Editor's Note: The following story by Arnold Steinhardt originally appeared on his blog In the Key of Strawberry and is republished with permission. Steinhardt is the founding member of the Guarneri String Quartet and the author of two books: Violin Dreams and Indivisible by Four. For more stories visit here or follow on Twitter.
"A Heavenly Length" by Arnold Steinhardt
January 7, 2016
Franz Schubert's sublime Two Cello Quintet in C major is probably on every chamber music lover's short list of most beloved works. Certainly, it is on mine. Recently, I had the memorable experience of hearing the Quintet performed glowingly not once but twice within hardly more than a week. The first performance, by the Dover String Quartet with cellist Paul Watkins as guest cellist, took place in New York City; the second in Los Angeles with students of the Colburn School joined by guest cellist Gary Hoffman.
The Two Cello Quintet, a work in four transcendent movements, fills the better part of an hour in performance—far longer than most quintets, but a "heavenly length" as Robert Schumann aptly described many of Schubert's large-scale works. In the hands of these two formidable groups, Schubert's masterpiece certainly achieved that time-altering sense, that heavenly length.
Schubert undoubtedly knew shining examples of the more traditional two-viola quintet writing by both Mozart and Beethoven, but he chose for his quintet the deeper sonorities provided by an added cello.
The work begins innocently enough with a simple C major chord that gradually grows in volume and intensity. The chord might lead us anywhere—to music of, say, good-natured playfulness or unabashed lyricism, but Schubert chooses another, darker path. In the following chord he alters the inner voices (second violin and viola)—each by a small step—to create an unsettling pang of anguish. This might reasonably be called Schubert's statement of intent in setting the stage for the entire work's duality: Major or minor key, joy or sorrow, exuberance or melancholy, otherworldly calm or intense anguish. Even as the Quintet eventually hurtles with ever growing energy towards its end, and seemingly with every intention of settling for unequivocal optimism, an ominous D flat intrudes on the last unison C—an unadorned note with neither a major nor minor key attached to it. Perhaps Schubert is telling us that there are never purely good or bad outcomes in life, only uncertainty.
Schubert lived for less than two months after composing the Two Cello Quintet in August and September. In October he embarked with his brother Ferdinand and two friends on a three-day walking tour as far as Eisenstadt where Haydn was buried, hardly an endeavor for a man who thinks he is about to leave this world. Nevertheless, Schubert's health was failing rapidly, undoubtedly the result of the syphilis he had contracted several years earlier. He died at 3 three o'clock in the afternoon of November 19, 1828, saying in one of his last lucid moments, "Here, here is my end." He was thirty-one years old.
Schubert must have been well aware that the then incurable syphilis raging within him offered little time left. With the clock ticking, his fragile and unpredictable health gave Schubert a powerful motivation for the astonishing number of monumental works he composed in the last five years of his life—among them, the Octet, the Fantasia in F minor for Piano Four-Hands, two piano trios, three string quartets, three piano sonatas, Die Winterreise, thirteen songs published posthumously as Schwanengesang, and his last great work, the Two Cello Quintet.
Schubert's publisher, Heinrich Albert Probst, had no interest in the Quintet and it languished for twenty-two years before being performed on November 17, 1850, at the Musikverein in Vienna, and published three years later. The initial neglect this towering work suffered is hard to understand. From the very first time I heard and then performed the Quintet as a student, its impact on me was immediate and powerful. The music's sheer expansiveness, its drama, its tenderness, its irresistible sonorities; the uncommon flickering back and forth from major to minor key; the two cellos sometimes in sweet and poignant duet, sometimes parting company—one laying down a resonant bass line, the other roaming its heavenly upper registers; all of this captivated and moved me deeply.
Those two recent Quintet performances I was fortunate enough to hear inevitably brought back a flood of memories. As I listened to Gary Hoffman playing on his 1662 Nicolo Amati cello, the cello formerly owned by Leonard Rose, I couldn't help thinking of Leonard Rose himself unhappily packing up that same Amati cello at the last Quintet rehearsal with our Guarneri Quartet before a New York performance and subsequent recording.
Rose, who had performed the Quintet probably more than all of us put together, nonetheless wanted more rehearsals. This was, unfortunately, not possible. With the concert the very next evening, time had run out. As we exited the stage at the end of the performance, I heard Rose, behind me, mutter to himself, "We had no right to play that well." It was the only time in my life I ever heard a musician complain about playing too well.
I remember another Quintet performance, also in New York, by the Guarneri and cellist Lynn Harrell in which something unexpected happened. We had already played the ethereal beginning of the second movement followed by its anguished middle second. Then arrived the moment when first violin (me) and second cello (Lynn) began trading pairs of plucked notes (pizzicato) in a dialogue of ever increasing intensity. At the loudest and most dramatic moment, however, Lynn, carried away by the music, unintentionally plucked the cello string with such force that it left its natural resting place on the bridge and landed with a loud "thwack" on the cello itself.
Was this cause for an unexpected intermission or even a concert cancelation? Not to worry. With gargantuan strength and an accompanying facial grimace, Lynn lifted the errant string back onto the bridge, allowing our dialogue to continue unimpeded and with a searing and memorable intensity for which this shocking "thwack" was at least partially responsible.
More recently, members of four different string quartets and a piano trio pooled their resources for a Schubert Quintet performance in Hamburg, Germany. The musicians were myself, violin, from the Guarneri Quartet, Donald Weilerstein, violin, from the Cleveland Quartet, Samuel Rhodes, viola, from the Juilliard Quartet, Valentin Erbin, cello, from the Alban Berg Quartet, and Niklas Schmidt, cello, from the Trio Fontenay. This gave our little chamber music convention the unprecedented opportunity in rehearsal to collect and exchange musical ideas drawn from many lifetimes of experience. The five of us must have had at that point easily several dozen Schubert Quintet performances collectively under our belts. There were no hot and heavy disagreements, only a sense of camaraderie and gratefulness for the good fortune we have had to be immersed in this miracle of music. Tales of our adventures with the music, the players involved, the great moments and the not so great flew back and forth in the Hamburg conservatory of music where we rehearsed and finally performed (a performance that can be seen and heard on YouTube).
"Secretly, in my heart of hearts, I still hope to make something of myself, but who can do anything after Beethoven," Schubert confided to his friend, Josef Spaun. Beethoven had already died when Schubert composed the Two Cello Quintet. Perhaps, as the musicologist Alfred Einstein believed, Schubert's powers of creativity reached a new level because he no longer feared the presence of Beethoven.
Schubert once wrote in his journal, "There is no one who understands the pain or the joy of others. We always imagine we are coming together and we merely go side by side. Oh what torture for those who recognize this." "But Franz," I would have said to Schubert if I had been one of his circle of devoted friends, "there is no music I know of yours that is not a journey into the deepest recesses of your heart and soul."
And if I had lived long enough to hear that first performance of the Two Cello Quintet in all its heavenly length, I would have added: "From this music alone, Franz, I know your pain and your joy."