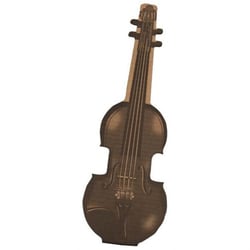 You've seen your child through the many stages of learning the violin. The cardboard box violin. The struggle to use the correct bowings and fingerings. Conquering scales and new songs. You've watched them grow into a little musician. Maybe they're beginning to vibrate or learning to shift. Perhaps they have joined their first orchestra or begun playing duets with friends. As they face more difficult repertoire and begin transitioning into ensembles, you couldn't be more proud. Isn't it time you considered rewarding your child's commitment with a better instrument?
We've seen it so many times: a student's parents purchase a new violin, and then the student gets so excited about their new sound and easier-to-play instrument that they can't wait to go practice. Learning a stringed instrument becomes more enjoyable, once the student realizes the sound they're making is beautiful and under their control—it is a huge confidence booster.
If you and your child's teacher feel that your child might be ready for a new instrument, consider the Carlo Lamberti instruments. The differences between your student's entry-level instrument and the next level upgrade may seem quite subtle, but there are a few things that make a bigger impact than you might think. Here are five significant reasons that make the Lamberti series a smart upgrade.
Sound Quality
The biggest difference between the Lamberti and a beginner instrument like a Franz Hoffmann is the sound quality. While the Hoffmanns already sound great for a beginner instrument, the Lamberti instruments are definitely an upgrade. Teachers often remark that the Lamberti instruments sound warmer, fuller and more colorful. This is especially apparent in the fractional violin sizes of 1/8, 1/4, 1/2. When violins are smaller than ½ size, their tonal characteristics can tend towards a bright, tinny sound. The Lamberti fractional sizes sound much more like their full-sized versions. If your student is beginning to work on vibrato and repertoire that demands them to use more phrasing and tone colors, they would benefit from playing on a Lamberti instrument that allows them to draw a richer tone and create more subtle differences in sound.
Volume

The Lamberti instruments can naturally produce a bigger and more beautiful sound. This is largely due to the more refined craftsmanship of the instrument. Having a louder sound is necessary when performing with a piano (which is inherently much louder than most stringed instruments!), or in a large space. While the volume of sound is ultimately dependent upon your technical ability, every instrument has its own natural limits of how much sound it can deliver. The Lamberti instruments pack a bigger punch than some of the Franz Hoffmann series. When an instrument is able to naturally produce more sound, the player doesn't have to work as hard and thus is able to play with more ease.
Response
While an instrument's responsiveness is somewhat subjective, any player can find a Lamberti violin, viola or cello easier to play. If you enjoy the feeling of your bow gliding across the strings with excellent precision, you'll love your Carlo Lamberti. Think of the response of a stringed instrument like the handling of a car. When a car's steering and braking is more responsive, the driver can drive with more precision. For stringed instruments, the response has to do with how quickly and accurately the violin responds to the bow being pulled across the strings. Any string player can attest to how frustrating it is when an instrument has poor response! Instruments with great response can help you articulate notes with more clarity and precision—especially with those tricky string crossings!
Intonation
String players know how challenging intonation is. Have you ever heard your student working on improving their pitch accuracy? When it comes to intonation, it's beneficial to have an instrument that is carefully crafted so that it resonates and vibrates beautifully. With a Carlo Lamberti stringed instrument, you will notice that this instrument resonates more when your child hits the correct pitches and helps him or play with even better intonation. It's hard to believe, but a nicer instrument can actually help your student play more in tune! Not only will your child enjoy this, but so will his or her teacher. As will rest of the household, including the family cat.
Value
The Carlo Lamberti instruments are a clear choice when it comes to choosing a stellar first instrument or when you're looking to upgrade. The improvements in sound quality, response and resonance can help anyone improve their performances. The Lambertis come in a variety of sizes for violin, viola and cello. With great sound and a reasonable sticker price, a Lamberti is a smart buy. Don't let an instrument hold your child back! Reward his or her efforts with an upgrade.
As a parent, you want to do the best that you can for your child. As a teacher, I know when my student's skills are being held back due to his or her instrument. There comes a point when their entry-level instrument isn't capable of producing more subtle tonal differences their teachers are asking them for. Maybe it's time to speak with your child's teacher about upgrading their instrument. If you don't live near our shop, you can even play many of our Lamberti instruments at home with our in-home trial program! Your child and their teacher will appreciate this exceptional instrument and the benefits it will bring, not the least of which is the confidence to explore new musical territory.