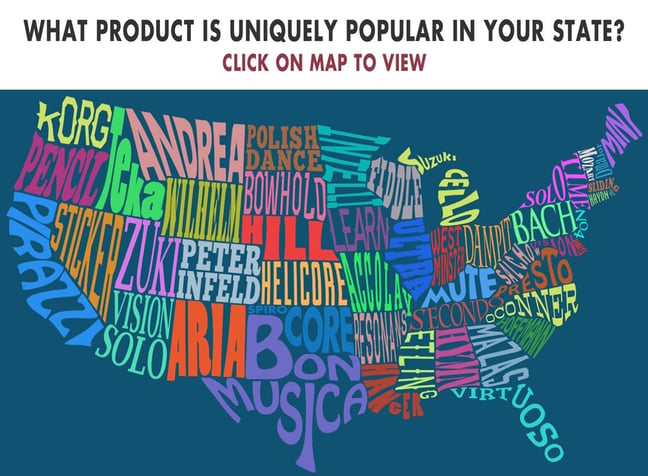 What do string players in Florida buy that those in Wisconsin don't? When putting together our catalog of products, SHAR always keeps in mind that every product we carry is the right product for someone out there. There are ubiquitous best-selling products that are popular no matter where you live, but it becomes interesting when we see the geographical diversity of our customers play out in the popularity of certain items! We decided to find out which item is the most uniquely popular to each state, and make an interactive map that links to each item. Basically, each selection represents the one item that was more popular in your state than any other in 2015. You may or may not be surprised, and maybe you've already bought one!
Click on the image to get to the interactive map or scroll down to the list below. [Oh, and Alaska and Hawaii, sorry we couldn't fit you into the map, but we've included you in the list below!]
Alabama - Ten Easy Hymns for Violin and Piano may be playing in a church near you if you live in Alabama!
Alaska - Maybe Alaskans have sensitive skin, or maybe they just know how comfortable the Wittner Hypoallergenic Centered Chinrest is.
Arizona - When you need a Violin D String in Arizona, the only choice seems to be the Vision Solo Violin Aluminum Wound D String.
Arkansas - Black velvet must be trendy in Arkansas, as we can see from their love for Resonans Shoulder Rests.
California - The Gold Rush is alive and well, as Californians show with their love of the golden sound of the "Evah Pirazzi Gold" E String (not to be confused by the "Evah Pirazzi" gold-plated E String, which is the one that is actually plated in gold)!
Colorado - Everyday is Pi day for violinists in Colorado, who clearly prefer this Peter Infeld Violin String Set.
Connecticut - The violinists in Connecticut aren't hidin' the fact that they love Peters's edition of the Haydn Violin Concerto No. 1 in C Major edited by Carl Flesch.
Delaware - You know what they say about cellists in Delaware? They love the Romberg Cello Sonata in C!
Florida - Maybe it's the heat, but some violin and viola students in Florida need a little help from the Virtuoso Wrist Practice Aid to keep a straight wrist.
Georgia - I bet you can't walk from one peach tree to another in Georgia without hearing a violist playing Mazas's Etudes Especiales.
Hawaii - In the always warm Hawaiian weather, violinists prefer the always warm Aluminum Wound Helicore E String.
Idaho - I was hoping violinists in the Gem State would like the Luxitune tuners, but they actually buy a lot more Teka Ebony Violin Chinrests.
Illinois - What's all the noise in Illinois? Well it's not the violinists using their Ultra Rubber Practice Mutes!
Indiana - It looks like a lot of hoosiers get their Westminster Violin E Strings from their neighbors in Illinois.
Iowa - New beginner violinists are taking a melodic approach to learning with Carl Grissen's Learn Violin with Tunes. A great way to make music early on!
Kansas - Shout out to all the violists in Kansas who know the power of Helicore Viola Strings!
Kentucky - Is it considered rude to practice loudly in Kentucky? Maybe, because the Metal Practice Mute for Violin and Viola is quite popular there.
Louisiana - Clearly Lousianans have true appreciation for the artistic form of the violin, which is why so many use the Home and Studio Violin Hanger to keep theirs on display.
Maine - Expect some young violin and viola virtuosos out of Maine, where the green and blue Kun Collapsible Mini Colored Shoulder Rests are especially popular!
Maryland - While the Arizonans love the bright aluminum-wound version, violinists from Maryland prefer the warm silver-wound Vision Solo Violin Silver D String.
Massachusetts - Kids start thrid position early in Massachusetts! And they do it right with Evelyn Avsharian's Sliding Fingers - Third Position Beginner Book.
Michigan - Of course the beginner Suzuki books are popular everywhere, but nowhere else outside of Michigan do so many students reach Suzuki Cello Book 7!
Minnesota - With the hot humid summers and frigid dry winters "up nort", you'd better have a hygrometer and thermometer built into your metronome like the Intelli 5-in-1 Digital Metro Tuner.
Mississippi - If you learned to play the violin in Mississippi, chances are you started out with Forest Etling's Workbook for Strings Book 1!
Missouri - What fine taste they have in Missouri, where the Accolay Violin Concerto No. 1 in A Minor is always a hit!
Montana - In the dry mountain air of Montana, cellists can't settle for less than Andrea Cello Solo Rosin!
Nebraska - Did you know that much of Nebraska is hilly? And much of Nebraska uses the Hill E Violin String!
Nevada - I like to imagine that everything in Nevada is totally covered in these Floral Music Note Stickers.
New Hampshire - The always popular Mozart Violin Concerto No. 4 in D Major is especially popular in New Hampshire, but only as the International Joachim Edition!
New Jersey - Mozart Concertos have made their way into a few states' top sellers for sure, but in New Jersey, the Schirmer Edition of Mozart Violin Concerto No. 4 in D Major edited by Hermann is preferred far beyond any state.
New Mexico - Perhaps the musicians of New Mexico are used to the bright sun, which is why when it gets dark, they prefer the bright natural light of the Aria Brio Music Stand LED Light.
New York - New Yorkers know that the most underrated book of tunes for intermediate violinists is Forest Etling's Solo Time For Strings, Book 4!
North Carolina - Fiddlers learn fast in North Carolina, where if you're not in the Mark O'Connor Violin Method Book 2, it's because you're already in books 3 or 4!
North Dakota - If you're from North Dakota, you may be familiar with the Severn's Polish Dance for Violin and Piano. Polonaise away, North Dakota!
Ohio - The Buckeye state has cold dry winters, and they keep their instruments safe from open seams, cracks, and slipping pegs with in-case humidifiers, like the Dampit Violin Humidifier.
Oklahoma - It's a musical state, so the cellists feel that they get the best sound from the Spirocore Tungsten Wound G and C Cello Strings!
Oregon - Musicians from Oregon know you should never be caught without a pencil, which is why they use the Pencil Guard Music Stand Pencil Holder.
Pennsylvania - While most states popularize the Bach Violin Concerto No. 1, Pennsylvania seems to prefer the slightly less common but absolutely divine Bach Violin Concerto No. 2 in E Major.
Rhode Island - The smallest state coincidentally has discovered one of our smallest items! The Clear Elastic Shoulder Rest Bands for the Perfect Shoulder Rests are great for players who don't want unsightly rubber bands holding on their shoulder rests.
South Carolina - Fiddlers in South Carolina know a deal when they see one, which is why they prefer the powerful sound of the full-size Franz Hoffmann® Prelude Violin Outfit!
South Dakota - I bet you can't find a single incorrect bow hold in all of South Dakota with how popular our Bow Hold Buddies are there!
Tennessee - Violinists play in comfort in Tenessee with the versatile Wolf Forte Secondo Violin Shoulder Rest.
Texas - Everything's big in Texas, and the appetite for the Bonmusica Violin Shoulder Rest is no exception.
Utah - The future generation of string players from Utah will have a nostalgic connection to Zuki Practice Beads for sure!
Vermont - If you're in Vermont and working on the Mozart Violin Concerto No. 3 in G, I bet it's the Francescatti-Ysaye International Edition!
Virginia - It seems that when it comes to wooden vs carbon fiber bows, many Virginians choose carbon fiber, specifically the Presto® Carbon Fiber Violin Bow.
Washington - Everyone's in tune and going steady in Washington, where the Korg TM-50 Combo Tuner Metronome is all the rage!
West Virginia - If you're playing violin or viola in West Virginia, there's a good chance you've found the best rosin for you is Salchow Rosin for Violin and Viola, made right here in the USA.
Wisconsin -It seems more and more cheeseheads are learning to fiddle with Fiddle Rhythms for Violin by Sally O'Reilly.
Wyoming - Word must have gotten around Wyoming that the H.R. Wilhelm Premier Nickel-mounted Violin Bow is your best bet for a bow under $500.
Perhaps your state's uniquely popular item makes sense, or maybe you've never even heard of it! Either way, we hope you had fun. We encourage you to subscribe to our Blog, and stay tuned for great product reviews, informational discussions, and more! Also, do you have an idea for a SHAR Blog that you would like to see? Comment below!