It is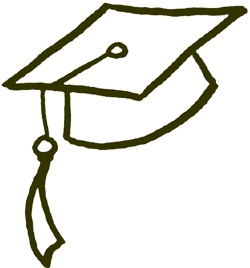 graduation season! Many high school musicians are now preparing to move on to college to study music and many music majors are now entering the workforce. To all of these new grads: CONGRATULATIONS! And, to ask the question that many people are probably asking you, "What are you going to do with a music degree?"
I have been asked this question many times and I confess that I have now begun to ask the question to myself. What is the value of a music degree? Is really worth all of the time, energy, and expense? When I decided to pursue a performance degree in college, many people tried to talk me out of it because they thought that I should be working toward something more realistic, more lucrative, and more practical. Were they right?
I have some thoughts.
First, of course, there is the practical element behind a music degree. It provides you with valuable playing and/or teaching experience. It may qualify you to teach. It is a powerful method of networking within the tightly connected music world. And, of course, it should make you a better player. In short, it provides the tools that you need to be a professional musician.
But you have to fight. It has been and will continue to be the same through all of human history: you must fight for what you love. If you love music and you want to devote your life to it, then it will certainly seem like an uphill battle much of the time. New high school grads will have to work hard in college not only to increase their playing skills but also to network, to find their own opportunities to perform, and to experiment in different genres and venues. New college grads will likewise have to work just as hard to make a place for themselves in the workforce. They will need to market themselves, network, and continue to advance their playing while working to make ends meet.
I mean this to be encouraging. It is an exciting frontier not because you will immediately have a high paying job upon graduation but because it is an honor and a privilege to dedicate your life to what you love. When the majority of Americans hate their jobs, the musician has the special honor of being an ambassador of beauty in a world that seems often to have forgotten what beauty is.
I am thankful for my performance degree because it has enabled me to work and perform in positions that I would not have otherwise been able to do. I am proud to have pursued what I loved. I value every performance that I've had. Besides, I think that studying music is not just a pursuit of technique but is very often a study of what it means to be human. Thus enriched, I do not count it as loss that I, by my own choice, have not "used" my degree in the sense of becoming an orchestral musician or a teacher. Instead I am thankful for the time I had in which I was able to fully devote myself to learning how to speak about love, joy, and the human condition without ever using words.
A music degree, thus understood, is invaluable. Sincere congratulations to all who are newly graduated!