Internet, we thought you'd never ask. But first you should rephrase that question: What's the best music stand for me? That's right. Like most things in life, there isn't a single best music stand out there, but there are stands that are great for particular uses, depending on factors such as sturdiness and portability. Here's our run-down: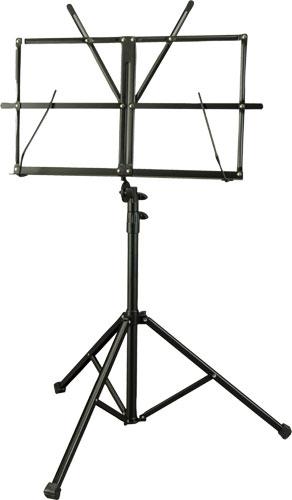 Metal Folding Stands
Metal folding stands are lightweight, compact and economical. SHAR offers many choices of these. The LS5 compact stand is our lowest priced stand and includes a vinyl bag too. (Get the LS5T is you want a taller stand.) The Gig-N-Go stand is our heaviest folding stand -- great when you need more stability. If what you want is a very lightweight stand, choose the Aluminum Light Music Stand (which has a unique locking clasp to keep the desk absolutely fixed in place).
Plastic Stands
If you want something with more stability, but still lightweight, choose a portable stand in plastic. We offer three great choices. The Peak Music Stand has proven very popular and folds neatly into a 6" x 6" x 24" bag for easy transport. (Peak also makes an extra tall stand and a stand perfect for writing notes.) Nilton offers two stands: the Nilton Studio Stand has a solid desk that slips neatly into its carry bag; the Magic Stand, with a unique folding design that lets you place the legs and optional light inside the folded desk, allows for very compact and secure travel. The Magic has been the personal favorite or Charles Avsharian, SHAR CEO, for 20 years.
Studio Stands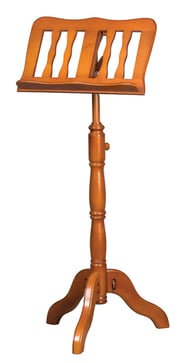 For studio use, or wherever you need more durability, choose a metal orchestra stand. SHAR offers Hamilton and Manhasset stands in a variety of designs. The Manhasset model AC48 is the classic orchestra stand, known by generations of music students. It now comes in a variety of colors too! Hamilton has been making stands since 1883 in the USA, and offers some unique features, including a one-hand adjustment system and extra shelf on the Trigger model (KB1FS). The major difference between these brands is that Hamilton desks are made of steel while Manhassets desks are aluminum. A steel desk weighs more, but will also be more durable and resistant to bending, and allow the use of magnets.
If you're in need of a more aesthetically pleasing music stand to fit right into your studio's ambiance, perhaps try a European Hand-Crafted Salon Music Stand, or choose among our finest hardwood music stands in our stands collection.
To check out our full selection of music stands and accessories, follow the link: