I sat down with SHAR Violin Shop Manager Hans Anderson on Friday, November 4th to talk about SHAR's new John Cheng line of violins. Hans and I met early that morning in one of the rehearsal rooms, which, with its hardwood floors and vaguely Victorian furnishings, seemed like a fitting place to talk about a line of violins. Before talking about the John Cheng line, though, I first asked Hans to share a little about himself as a musician and his approach to selling instruments. I found our discussion so interesting that I decided to post the interview in two parts on our blog. In this week's post, Hans shares his thoughts about the relationship a player forms with an instrument. In next week's post, Hans and I will talk about SHAR's new line of John Cheng violins.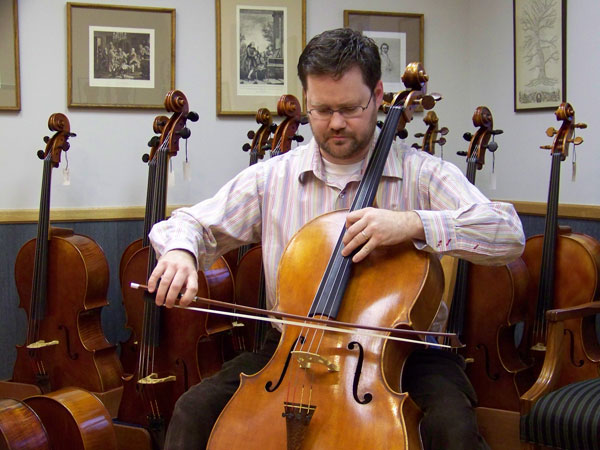 Joseph Chapman: I want to start by hearing a little about you as a musician. What instruments do you play? What's your career and history as a musician?
Hans Anderson: Well , I play cello. I play a little electric bass. My father is a Suzuki violin and viola teacher, so I grew up with music. I started playing violin when I was seven, switched to cello shortly thereafter, and studied very seriously through high school. But I think I knew—because my father was a professional—that maybe the traditional classical performance route wasn't for me, in the sense that I didn't have enough of a real drive and passion for it to be successful. I like doing it, but he really loves it. I have great respect for him. Anyways, I went to the University of Michigan and studied environmental policy, but I was always playing music, and after school I came back to the cello. I started working here at the shop, and that got me playing more. I play a lot at our church and do some recording stuff around the metro-Detroit area. If there are recording sessions for gospel artists, I do that. I learned how to improvise in somewhat of a jazz vein, and I've been doing that for the past six or seven years. To not worry about the music and just play—or, rather, to not worry about what's on the printed page—was a big departure from my classical training.
JC: As a musician and as a salesperson in the SHAR Violin Shop, what do you look for in a cello?
HA: Well, there are two things. First, I have to understand my own preferences, my own biases, and I have to factor those in appropriately. In general, I'm looking for a cello that responds easily and has a variety of tone colors. As a cellist, you want a richness and depth that is synonymous with playing cello. Then I also have to balance those considerations with what particular players are looking for. So, in my conversations with our customers, I try to ask the right questions. I really try to understand what it is they hear and what they're looking for in a cello. If it's someone who has just walked into our shop and they've tried ten cellos already, and there's something that's just been set up in our repair shop, I'll let them know about it. I can try to make that match. With our customers at a distance, we're talking by phone and through email. Again, I just try to have a good understanding of what they want and find cellos with those characteristics, whether those characteristics are a brighter voice, more zing and brilliance on the A-string, or maybe they want a smoother sounding A-string. I mean, these are all variables that are very personal. It just depends on the player.
JC: When I was talking with you a few weeks ago, you said that it's really difficult to describe a high-end instrument on its own—that it makes more to sense to describe the relationship between the player and the instrument. I was curious about your own relationship with your cello. What kind of relationship do you have with it? Do you expect a certain sound from your cello?
HA: That's an interesting story. When I got my first step-up cello in high school, my father and my teacher at the time (who was a professor at Western Michigan University) both helped me find a cello in a local shop. It was an old German instrument, probably from the 1880s. At the time, I just loved it. Over the years, though, I had it checked out by other luthiers, and I realized that the thing had a million cracks in it. It was kind of small, and I'm about six feet tall, so it maybe wasn't the best match. One of my friends here at SHAR, a luthier from Germany, had friends from the Karl Joseph Schneider workshop that were sending us cellos from Germany. We had just gotten a shipment of six cellos. I was able to play through them, and there was one instrument in particular that jumped out. It was somewhat within my price range, but I had to stretch. So I found the best cello I could find in my somewhat limited price range—it was really a cello that could do so much more than my old cello. It was more dynamic, more responsive. A lot of it is just hard to put into words. I can't describe it, but it was just easy for me to play and easy for me to do a lot of different things with the instrument. Over the years—I've had that cello for probably over ten years—it's just been able to do whatever I've been thinking in my head. That's become especially important as I've done more improvisational stuff, where I hear something in my head (or think it) and need to immediately spit it out. I have the luxury of working in a great violin shop, and we've got cellos that are three, four, or five times more expensive than my own cello. On occasion, I'll play something for fun, or take it home to a rehearsal, and even the more expensive cellos ... it's not that they're not great, it's that they're not my match, you know? I've really grown used to the cello that I have. I really understand it and can do things that I can't do on other cellos. Again, not because those other cellos aren't better, I'm just so used to my cello. And that's where the relationship comes in—so many subtle nuances.