Looking for a rental?
Try the SHAR Way - It's Better than Renting!
During my Apprenticeship here at Shar, I have had time to play all of Shar's Hoffmann student instruments. My first week, I played the Hoffmann Prelude, the instrument that is now our Standard SharWay instrument. I was extremely pleased and impressed with it's lovely voice, easy response, and excellent craftsmanship. Then I played the SharWay Premium, the Hoffmann Concert, and I was really thrilled. It is an instrument that could take a student a long way. It has a sweet, clear voice with great overtones. Years, back, my own early violin was only ok, and I was resigned to starting my students on other such heavy, dull sounding instruments. Not with the Shar Way! It is wonderful that both these instruments, the Standard and Premium, are available as Shar's answer to a rental in such a user friendly and customer focused program.

I know that you'll be happy with the sound of your new SharWay violin!

- Katherine Thompson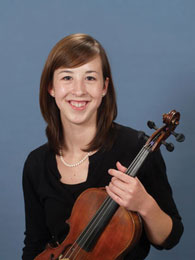 My favorite feature of the Shar Way plan is that every payment works towards a goal. New students and parents don't have to feel the pressure of an impending purchase about which they may not know a whole lot. You cannot get stuck in the "forever renting" rut because every payment contributes to either your Shar Way Credit or it goes towards the instrument that you currently have. It's 24 months to learn more about your new instrument and start thinking about your next steps as a musician. It's all the benefits of a rental – low monthly payments, less pressure from financial commitment, extended warranty coverage – and you also get a new instrument from the get-go.

- Hilary Lewis

Comparing a local shop rental to a SHAR Way instrument? Be informed and ask these questions before making your selection.
Am I getting a new instrument and why is that important?
All SHAR Way instruments, cases and bows are brand new, fully set up and ready to play

New instruments add to the excitement of starting something new
What will I really pay?
Only the monthly payment

No extra fees

Warranty included
Am I renting forever?
With the SHAR Way you own the instrument

You never make more than 24 payments

You may return at any time and make no further payments
Is there a penalty for returning my instrument?
No restocking fees, extra charges or early termination fee

Return at any time for any reason

30 day satisfaction guarantee
What are my options when I'm ready for a more advanced instrument?
Don't limit yourself with small selections

Build equity with each monthly payment

Choose from our more than 50 models of intermediate and advanced instruments, all at fair prices